Picture This: Ashley Tisdale In A New Movie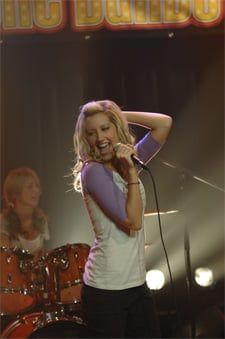 It's interesting to see how the High School Musical crowd is developing their respective careers beyond the franchise that made them popular. Almost every one of them is rapidly getting involved in some project that takes place in – you guessed it – a High School! For Ashley Tisdale (Sharpay in HSM), that next project is titled Picture This and is headed for DVD on July 22nd.
Picture This stars Tisdale as Mandy, an unpopular high school senior who somehow finds herself with a date with Drew, the most popular guy in the school. Unfortunately Mandy will have to overcome her own awkward social status, her overprotective dad, and Drew's crazy ex-girlfriend in order to claim that date. And, of course, she'll have to sing somewhere along the way.
Tisdale is obviously the big selling point on this movie as a huge draw to the high school market, but she's not the movie's only appeal. The cast also includes Kevin Pollak, Lauren Collins, Shenae Grimes, and Cindy Busby.
The official press release for Picture This explains why Tisdale chose to take on a role so similar, and yet so different, from Sharpay: "When I read the script for Picture This, I just fell in love with the lead character Mandy, this goofy, unpopular, girl next door who knows what she wants, but isn't willing to sacrifice who she is to get it," said Tisdale. "Mandy's real and I think a lot of kids will relate to that. It reminds me a lot of when I was in high school. I wasn't really in the popular group, but I wasn't in the nerdy group. I was somewhere in the middle, too." Of course, in order to believe that you have to look past the fact that Tisdale is breathtakingly beautiful and has been popular thanks to Disney's franchise for the past two years. Hard to buy she wasn't popular in school.
Here's a look at the bonus material and the cover art you'll find on MGM's release of Picture This, due in stores on July 22nd.
Special Features
Widescreen Feature Film
Making Of Picture This Featurette
Cell Phone Confessions Featurette
Scene Selected Cell Phone "Text" Commentary Between Shenae and Lauren
Picture This Trivia Quiz
Your Daily Blend of Entertainment News
Thank you for signing up to CinemaBlend. You will receive a verification email shortly.
There was a problem. Please refresh the page and try again.