Here Are The Bonuses You Get If You Pre-Order Horizon: Zero Dawn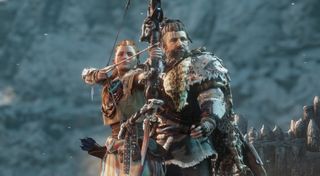 (Image credit: Guerrilla Games)
Guerrilla Games and Sony's upcoming PlayStation 4 exclusive, Horizon: Zero Dawn, will feature a number of different versions that can be purchased either digitally or from retail outlets. No matter which version you get, if you pre-order the game you'll be able to get your hands on a special Nora Machine Trapper's pack.
According to Gamespot, the Nora Machine Trapper pre-order bonus comes with Horizon: Zero Dawn no matter where you pre-order the game from, this includes GameStop, Electronics Boutique, Amazon or through the PlayStation Store.
Usually pre-order bonuses are broken up and sold piecemeal to various retailers and e-tailers alike. Gamers have continuously complained about the practice of retailer exclusive pre-order bonuses, so it's nice to see Guerrilla Games and Sony keeping it homogeneous across most participating outlets.
The Nora Machine Trapper pack includes a brand new outfit for the main protagonist, Aloy, a brand new weapon and a supply of crafting resources.
The Nora Machine pack is also included in all of the special editions of the game as well, including the Digital Deluxe Edition and the Limited Collector's Edition of Horizon: Zero Dawn. You can check out the promotional image below, which showcases what you get in the Digital Deluxe Edition.
The above package will run you $70. It comes with the PlayStation 4 exclusive Horizon: Zero Dawn, a 48 page art book, an exclusive PlayStation 4 dashboard theme, a Carja Storm Ranger outfit and a matching bow, a Banuk Trailblazer outfit and a Banuk Culling bow, along with the Nora Keeper pack.
If you're willing to spend almost twice as much as what the Digital Deluxe Edition costs, you'll be able to get your hands on the $120 Collector's Edition of Horizon: Zero Dawn, which comes with everything listed above from the Digital Deluxe Edition. The reason for the price hike is that it comes with a specially made nine-inch tall statue.
Now if you were hoping that the statue was of a robo-dinosaur, you're a bit mistaken. It does feature a robo-dino but it's dead and on the ground with Aloy standing over it with her bow and arrow. The Collector's Edition also comes with the included Nora Machine Trapper pack, which will be available even to those who don't pre-order the game. So if you can't pre-order Horizon: Zero Dawn for whatever reason but you do manage to get your hands on the Limited Collector's Edition after the game releases, you will still be able to get your hands on the special pre-order bonus DLC.
Recently Guerrilla Games announced that the title would be delayed and pushed into February of 2017. They showcased some more footage of the title at this year's E3 and it's looking mighty impressive. I do wonder with the delay and the announcement of the pre-order bonuses if we'll get some KillZone crossover DLC at some point? It would be a pretty cool thing to see Aloy decked out in Helghast armor.
Pre-orders for Horizon: Zero Dawn are available right now from participating outlets.
Staff Writer at CinemaBlend.
Your Daily Blend of Entertainment News
Thank you for signing up to CinemaBlend. You will receive a verification email shortly.
There was a problem. Please refresh the page and try again.