When Fallout 4's Next DLC Is Available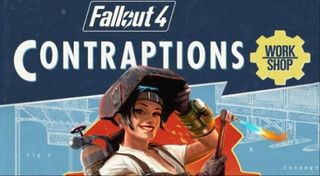 (Image credit: Bethesda)
You won't have to wait long to get your hands on Bethesda's next DLC outing for Fallout 4. The game will be receiving its latest content pack starting... today. That's right, the Contraptions Workshop DLC is available right now for the Xbox One, PS4 and PC.
Gamespot is reporting that if you already have the season pass you'll have access to the downloadable content for Fallout 4 right now. If you don't have the season pass you'll have to pony up $4.99 for the content pack.
The Contraptions Workshop DLC was announced just last week during Bethesda's E3 press conference in Los Angeles, California. They revealed that Fallout 4 would be receiving three additional DLC packs to round out the game's add-on content. They're starting to wrap things up for the post-apocalyptic, open-world, action-RPG with the Contraptions Workshop. This particular pack centers on Rube Goldberg-style utilities that players can use to build all sorts of nifty contraptions within their settlement.
Bethesda has implemented conveyor belts that can be aimed in multiple directions, perfect for creating a factory line of sorts. They also added scaffolding kits for building settlements high up into the sky, as well as creating areas where you can decorate hard to reach places with specific items. They added track kits for moving large objects around, as well as logic gates. The logic gates should prove to be very interesting, as players will be able to create complex machinery and devices operated by commands.
What's more is that Bethesda went ahead and implemented elevators into Fallout 4. Now players can travel up and down multiple flights using a single elevator. This is perfect for gamers who want to create apartment buildings in their settlement. For PC gamers this is especially rewarding because they can bust outside the resource limits of settlements and create large, skyscrapers with multiple floors. I almost can't wait to see what some of the more dedicated modders come up with for Fallout 4.
The Contraptions Workshop also fireworks (which a lot of people don't seem to care too much about) and armor racks. Now you might think that armor racks is a throwaway thing, but it's not. A lot of gamers are actually really excited about the racks. Why? Because tons of players stock up on all sorts of rare equipment found throughout Fallout 4. If they can't carry it all on a questing or scavenging run, they store it at their place. Usually items are kept in boxes or crates, but now players are capable of hoisting up their weapons on a rack to show off to the world... or at least show off to other NPCs in their version of Fallout 4.
The armor and weapon racks were also popular features in the Elder Scrolls games, so it's not surprising that it would have a suitably large audience in Fallout, too.
Following up on the Contraptions Workshop DLC is the Vault-Tec Workshop, which is due to drop in July, next month. And following the Vault-Tec Workshop is the big finale... Nuka World. Now according to Bethesda the Nuka World DLC is going to be huge... so big in fact that they're charging $20 for it. The Nuka World DLC will drop in August.
You can get your hands on the Contraptions Workshop right now for the PC, PS4 and Xbox One for only $5.
Your Daily Blend of Entertainment News
Staff Writer at CinemaBlend.