Watch This Weatherman Interrupt A Forecast To Play Pokemon Go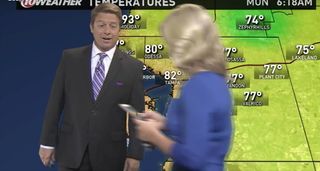 Pokemon Go has obviously taken over the world and everyone's lives, because now even those on TV have to stop to check what Pokemon are nearby. While this is more than likely a staged incident, it's hilarious to see just what kind of effect Pokemon really is having on today's society. You can see the video below.
The weather station is located in Tampa, Florida and meteorologist Bobby Deskins can be seen trying to conduct the weather forecast when all of a sudden one of his colleagues walks in front of the camera holding her cellphone, her head down staring at her phone. And you can see Deskins laughing and telling viewers to be careful playing Pokemon Go because you'll be walking in all kinds of different areas randomly.
There have been reports of people trespassing on private properties just to try and capture Pokemon, and people have been searching places like cemeteries and the Holocaust museum, which has actually decided to ban people from playing Pokemon Go there.
It's no surprise that Pokemon Go has been deemed a cultural phenomenon, affecting every aspect of our lives in all kinds of situations, from choosing where to eat to getting daily exercise to getting out and being social in populated areas. Yes, there are negative aspects to the game, like a lack of attention to our surroundings, hence the above video of a colleague of the news channel walking on camera. But even Niantic Labs understands that, which is why they are getting ready to roll out the Pokemon Go Plus, which should help eliminate the need to constantly stare at your phone to play Pokemon Go. What Pokemon Go is actually doing is changing the world, one step at a time. That may sound a little over exaggerated, but think about it: Pokemon Go is changing how people think about aspects of the world, and how we view the world. Now, I think about eating out more because of Pokemon Go. Now, I want to take walks at night. There's this drive behind the game, the drive to not only catch more Pokemon, but a drive to do things you wouldn't normally do. Now are people going to start looking for jobs based on how many Pokestops are in the area? I wouldn't doubt it.
For more information on Pokemon Go, you can visit the official website.
Your Daily Blend of Entertainment News
Your Daily Blend of Entertainment News
Thank you for signing up to CinemaBlend. You will receive a verification email shortly.
There was a problem. Please refresh the page and try again.