System Shock Will Be Coming To PS4, Get The Details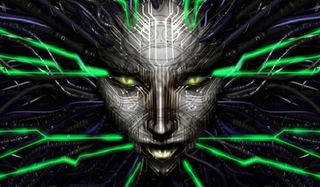 It looks like even more gamers will be invited to return to Citadel Station via the upcoming System Shock remake as the development team at Nightdive announces plans to launch the game on PlayStation 4.
Word went live through Kickstarter and the PlayStation Blog recently that PlayStation 4 had been added to the list of launch platforms for System Shock. The game was already slated to arrive on the Xbox One and PC and, thanks to a highly successful Kickstarter campaign, it looks like Sony fans will also be able to get in on the action.
For those unfamiliar with System Shock but who think the name sounds awfully familiar, it's because the game and its sequel are cousins to a much more recent series of beloved games, BioShock.
Both series share similar themes and a focus on iconic locations. They're also both just south of being survival horror games, with plenty of creepy moments thrown in to keep players on their toes. According to developer Jason Fader, the Nightdive team had to clear a few other priorities up before deciding whether or not to tackle a PlayStation 4 version of the upcoming remake. Though full of shiny new graphics and sounds, this updated version of System Shock is using the original game as a very defined template.
The System Shock celebration continued over on the PlayStation Blog, where Fader explained that the team received some "huge demand" for a PS4 version of the game. Unfortunately, the project is still in the early stages, so folks shouldn't expect it to arrive any time before Q1 of 2018.
In order to make the project sing, Fader explained that Nightdive has brought on talent from various other projects, including folks who have worked on PlanetSide, Fallout and, yes, even the original System Shock. A nice chunk of the team actually worked on Fallout: New Vegas, which should give you an idea of the caliber of talent plugging away on System Shock right now. He added that everyone is working to make a game that "fans old and new will be sure to love."
And for those of you who are curious, the answer is yes, the killer AI system known as SHODAN is making a triumphant return in this new version of System Shock. Even better, the team is working with Terri Brosius, the original voice actress for the character.
As a final reminder, the System Shock Kickstarter wraps up in just six days. The game has made over a million bucks to date and is fully funded, but there's plenty of stretch goals left to unlock, in case you feel like chipping in.
Your Daily Blend of Entertainment News
Staff Writer for CinemaBlend.