Why The Title For South Park: The Fractured But Whole Was Almost Something Totally Different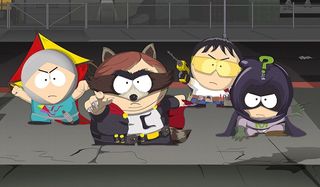 South Park: The Fractured But Whole is a brilliant title, but it turns out that creators Trey Parker and Matt Stone had something else in mind at first. That's one of the facts the duo recently discussed in a behind-the-scenes clip for the upcoming tactical RPG.
I still can't get over the fact that we're talking about a South Park game and "tactical RPG" in the same breath. But if there's one things we've come to expect out of South Park over the years, it's the unexpected.
Anyway, as I was saying, Stone and Parker got together recently to dish some interesting details about the development of this latest South Park game, which picks up its story immediately following the events of The Stick of Truth. As the duo explained during an E3 interview with Ubisoft, the player takes on the same role as the new kid in town, but you'll be shuffled back down to the bottom of the totem pole. You rose to power the previous day while playing a fantasy game but, now that the kids have moved on to playing superheroes, you're back to being a nobody.
Since the game's story parodies Marvel's Civil War events, it makes sense that the title would express the division happening amidst these young defenders of justice. But as Parker and Stone explain, they weren't originally going to call the game The Fractured But Whole.
Originally, this latest entry in the South Park series was going to be called, quite simply, The Butt Hole Of Time. So why did they change it? Well, it turns out that many retailers, when presented with this title, responded with a big, fat "Nope." Nobody wants a game on the shelf that has the actual words "Butt Hole" in the title, apparently, so the team had to get creative.
And I think it's a good thing, actually. I'm sure The Butt Hole of Time has some sort of relevance in the plot, but it doesn't really tell us anything about the game. Not only does The Fractured But Whole sneakily get the desired term on the game's cover, but it's about a million times more clever and matches up with that whole Civil War parody plan.
As for when we'll finally be able to play this new South Park game, we've only got a few months left to wait. It's mercifully skipping the crowded fall window and will not hit store shelves until December 6 for the PlayStation 4, Xbox One and PC. It's still in plenty of time for holiday shopping, but separated enough to have a bit of breathing room from all of those shooters and whatnot launching in October and November.
Your Daily Blend of Entertainment News
Staff Writer for CinemaBlend.