Why Nintendo Actually Lost Billions Because Of Pokemon Go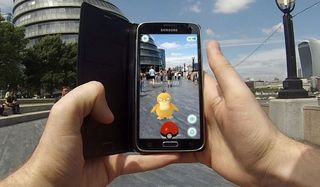 It must have been a wild, emotional roller coaster of a week for folks who follow Nintendo's finances, as the company's stock shot into the stratosphere and then came plummeting back down following the success of Pokemon Go. According to the Big N, the game has actually resulted in a loss of billions for the company, rather than a gain.
The cause for this whole situation is actually pretty simple: Folks don't understand who had a hand in the creation or distribution of Pokemon Go. You see, even though pretty much every Pokemon game ever has launched on a Nintendo platform and they usually publish the games themselves, that wasn't the case for the recent mobile success, Pokemon Go.
Instead, the game was developed by the team at Niantic and published by The Pokemon Company. Sure, Nintendo is getting a slice of the Pokemon Go pie, but not nearly the portion being shared by the game's actual developer or publisher. Heck, even platform owners Apple and Google are making more money on the game than Nintendo.
So if Nintendo is set to earn some of that sweet-sweet Pokemon Go money, why are they now reporting that the game has hurt them a bit in the short-term? Well that all ties back into Nintendo stock, as well as their desire to be totally honest with their investors.
Once Pokemon Go launched, Nintendo's stock skyrocketed, breaking all kinds of records for the company. Last week, however, Nintendo sent out a brief letter titled "Notice regarding the impact of Pokemon Go on the consolidated financial forecast." In that note, Nintendo explains that they own 32 percent of the voting power of The Pokemon Company, but that's it.
Once investors discovered that Nintendo wasn't set to gain as much from Pokemon Go as everyone assumed, Nintendo's stock took a bit of a nosedive. Considering how well it has been doing, though, it shouldn't knock too big of a dent in the company.
And that brings us to the Pokemon Go Plus, a handy little device that will pair with the game and alert players to nearby Pokemon and PokeStops. Nintendo is fully responsible for that still-to-be-released contraption, which is where it will make the majority of its money off of Pokemon Go. We wouldn't be surprised if additional peripherals come out of Nintendo, too, in order to strike while the iron is hot.
However, as Nintendo pointed out in that same financial forecast, it has already included expected gains from the Pokemon Go Plus in their financial forecast set to end March 31 of next year. In other words, don't expect Nintendo to adjust their expected earnings for the year once the Plus finally launches, as they've already done the math.
So that's a bit of a bummer for Nintendo. But it also makes a lot of sense. Everyone just assumes that they are responsible for all facets of the Pokemon series due to the history of the games, but this just goes to show what assuming can do.
Your Daily Blend of Entertainment News
Staff Writer for CinemaBlend.