How To Play The Yooka-Laylee Toybox Mode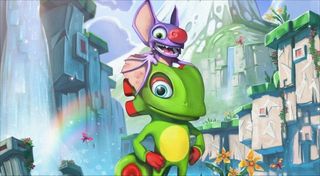 (Image credit: PlayTonic Games)
Playtonic's spiritual successor to Banjo Kazooie is still making its way through development. Yooka-Laylee is the name of the game and there's a new playable mode available for those who backed the game called Toybox Mode. If you contributed to its development you should have received access or will receive access soon.
According to Game Informer, e-mails are being sent out now that include the proper access method for playing the Toybox mode for the upcoming Yooka-Laylee. Unfortunately if you didn't back the game you won't have access to the mode.
The Toybox is a little like a sandbox arena insofar that it gives backers an idea of how the gameplay mechanics work. You get to play-test the flying, the gliding, sliding, jumping, swimming and platforming. It's a mechanics test.
Playtonic Games released a brief 33 second teaser to give gamers a short look at how the Toybox mode is set up and what sort of things backers can look forward to when they boot up the mode for the first time. Check out the video below.
Graphically the game appears to be coming along quite nicely. Of course, you should definitely take note that the title is still heavily in development and you can see that there are a lot of placeholder features implemented just so that gamers have a basic idea of what they're going for with Yooka-Laylee.
The independently funded game came onto the scene as an idea and concept as far back as 2012 when former members of Rare, the original makers of Banjo Kazooie, talked up the idea of a spiritual successor. That all came to fruition in 2015 when the actual Kickstarter got underway and they managed to secure enough funding to make a home console and PC 3D platformer.
Yooka-Laylee is now set to arrive in the early first quarter of 2017 for the Xbox One, PS4, Wii U and PC.
Much like its predecessor, players will be able to glide around arenas using the bat named Laylee while jumping and swimming and battling enemies with Yooka. The chameleon and bat duo could open the door for an all new branded franchise assuming it sells well enough when it releases next year.
We've had a dearth of recognizable new IPs to come out during the seventh and eighth generation of gaming. Most of the ones that have found a sustained place on the market include grim-dark games like Gears of War, The Witcher and Dark Souls. There's absolutely nothing wrong with those franchises but fun-loving mascots have become such a rarity these days that it's nice to see Platonic Games gunning for something more lighthearted.
Sadly, if you didn't pledge any funds during the Kickstarter phase you'll simply have to wait until a public beta or demo is made available. In the meantime don't be surprised if you see some gameplay footage of Yooka-Laylee appear on YouTube featuring the Toybox mode.
Staff Writer at CinemaBlend.
Your Daily Blend of Entertainment News
Thank you for signing up to CinemaBlend. You will receive a verification email shortly.
There was a problem. Please refresh the page and try again.