No Man's Sky Is Almost Here, But The Developer Is Not Slowing Down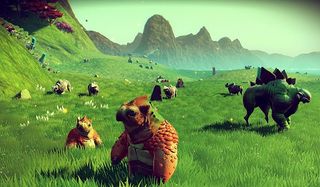 It's hard to believe, but No Man's Sky is finally less than a week away from being in our hot little hands. Cooler still is the fact that, according to the game's director, the team has already wrapped up work on the game's first update.
For many folks gaming on PlayStation 4 and PC, Tuesday, Aug. 9, can't get here soon enough. That's the day the infinite-exploration game known as No Man's Sky will finally be available, inviting folks to hop from planet to planet on a quest to reach the heart of the galaxy.
But while the game is set to launch in just a few more days, Director Sean Murray has announced via Twitter that the first bit of post-launch support is really coming together nicely.
What remains unclear is if this is a day-one patch for the game or something that's coming a week or two after the Aug. 9 launch date for No Man's Sky. Either way, Murray is promising that it includes "lots of new features," as well as some balancing and content updates. Given the fact that the team was apparently working on this update at five in the morning, my money is on it being plugged into the game with a quickness.
No Man's Sky has been in the headlines quite a bit lately, with astronomical anticipation only being about 50 percent of the cause. The other half belongs to a gentleman who spent a rather sizable amount of money on a leaked early copy of No Man's Sky before proceeding to upload videos, streams, screenshots, etc. from the game.
That's actually evolved into an interesting story. The guy eventually realized that he was potentially harming Hello Games and No Man's Sky rather than helping it (or humblebragging, really), simply by showing off moments folks have been waiting a long time to experience firsthand. It should also be noted that he's leveled several complaints against the game, which may actually be addressed in either the very update Murray and company recently finished or one that's already been sitting in the can. In other words, his actions may have turned folks off of an indie game for reasons that won't even be relevant come Aug. 9. That's kinda why games have a launch date, folks. It's not super fair to judge something before it's been deemed ready for prime time. After launch, though, bring on the criticisms.
Sadly, Murray gave no hints as to what these new features, content or other adjustments to No Man's Sky were. Hopefully we'll get additional details in a blog post soon but, until then, I'm sure we've got enough possibilities in this infinite galaxy to keep our brains busy.
So, tell us: Are you still hyped for No Man's Sky? Let us know in the comments below.
Staff Writer for CinemaBlend.
Your Daily Blend of Entertainment News
Thank you for signing up to CinemaBlend. You will receive a verification email shortly.
There was a problem. Please refresh the page and try again.