When No Man's Sky's Official Soundtrack Will Release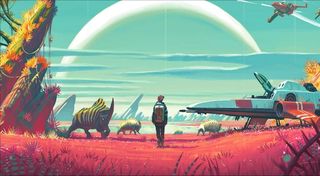 Despite Hello Games' No Man's Sky being an indie title, the game has been treated very much like an AAA release amongst gamers and the press. The title is always spotlighted in the news for every little tidbit and morsel of info that appears, and in this case we've discovered that the official release date for the soundtrack will be on June 17.
As reported by PlayStation LifeStyle, No Man's Sky OST has been put together by the progressive, instrumental U.K., band 65Daysofstatic called No Man's Sky: Music For An Infinite Universe. They explained that working on the project was like spending two years of their life consumed in a black hole and that the end result was them being spat out in another dimension.
Many gamers were introduced to the soundtrack of No Man's Sky when 65Daysofstatic had their song "Debutante" used as the theme for the gameplay trailer that was on display at E3. If you don't remember the song, you can listen to the full thing below.
At the two minute mark most people probably recognize that bit from being used in so many clips for No Man's Sky.
The soundtrack will contain "Debutante" along with 15 other tracks available from major music e-tailers online, as well as at some record stores in a deluxe double CD package, or as a 10 trackdouble vinyl with an extra download code included to access the rest of the six tracks via digital download.
The music for No Man's Sky has been pretty cool so far and it's one of the many highlights of the open-universe, galactic adventure game.
To circle back around as to why the game is so hyped up, it's because console games have stalled greatly in the creativity department. We're seeing some wild ideas explored on PC in the indie scene, from games like Factorio to Subnautica to Drive Any Track to The Ship; but consoles have stayed relatively safe with their games and concepts. So when a game like No Man's Sky comes along we have gamers thoroughly excited for the title because traveling around the galaxy, discovering new alien life forms, engaging in huge space battles and exploring foreign worlds in a fully interactive 3D environment is something completely new to the console space.
A lot of gamers have compared Hello Games' title to the side-scrolling, galactic adventure game from Chucklefish Studios called Starbound. Both games are very similar, only that in No Man's Sky there are no loading screens or boundaries between space and the planet's surface, making it like a more technically advanced version of Empyrion: Galactic Survival.
I can only imagine how difficult it must have been for 65Daysofstatic to shape music around the open-ended structure of a game like No Man's Sky, but I'm interested to hear how it all comes together in the finished product. You can look for the soundtrack to be made available on June 17th, just a few days ahead of the official game's release, which is due to be made available on PS4 and PC starting June 21.
Your Daily Blend of Entertainment News
Staff Writer at CinemaBlend.