How No Man's Sky's Lore Will Build The Universe, According To The Developer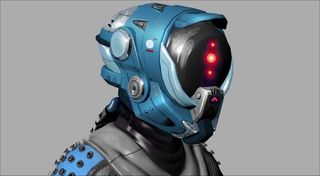 We still know practically nothing about the lore in the upcoming PC and PS4 title, No Man's Sky. The game won't have a traditional story per se, but the founder of Hello Games, Sean Murray, explained that some renown creative minds in the sci-fi field have lent their talents to expanding the lore of No Man's Sky.
Over on the official PlayStation blog, Murray talks about how No Man's Sky won't force players along a standard linear path with a preset eight-hour, corridor-shooter experience. Instead the game will encourage players to build and evolve their in-game experience with lore that has been developed to give gamers a sense of discovery.
Very similar to how the different weapons in Borderlands are attached to various manufacturers, the different architecture, weapons, ships and structures are attached to various alien civilizations scattered across the vast universe of No Man's Sky. The procedural content matrix gives gamers a wide range of different kinds of cultures, civilizations, structures and both friendly and hostile aliens to encounter.
A lot of this is further explored in a special edition comic based on No Man's Sky called Adventures in No Man's Sky from David Gibbons and James Swallow. Some of Gibbons' previous work includes Watchmen and 2000 AD, while Swallow has worked on Deus Ex: Human Revolution and Star Trek. A brief developer diary was released that further explains how Gibbons and Swallow approached working on the comic book based around No Man's Sky, which you can check out below.
It's neat that we get to see a few more of the ships that may appear in No Man's Sky, as well as some of the different ways in which they can be upgraded. Gamers have been clamoring to see more in regards to the crafting, weapons and space combat, so any little morsel of information is definitely welcome on that front.
As for the comic book... it will be included in the limited collector's edition of the game because Murray is very fond of that nostalgic feeling that comes rushing in when opening up a big game box and pulling out all that cool stuff that used to come in game boxes before everything turned cheap and digital.
Nevertheless, the concepts of how they plan to approach the expansion of lore in No Man's Sky is pretty cool. Very few games take that kind of approach because oftentimes gamers won't actually seek out and find the lore of the world on their own unless they're compelled to do so. I do hope that they give gamers enough compelling reasons to explore the game's massive universe because otherwise gamers could find themselves getting bored quickly and not bothering to learn the alien languages, or seek out the mysterious alien artifacts, or discover long lost civilizations.
You can look for No Man's Sky to launch on PC and the PlayStation 4 this June.
Your Daily Blend of Entertainment News
Staff Writer at CinemaBlend.
Your Daily Blend of Entertainment News
Thank you for signing up to CinemaBlend. You will receive a verification email shortly.
There was a problem. Please refresh the page and try again.