Here's What You'll Need To Play Deus Ex: Mankind Divided On PC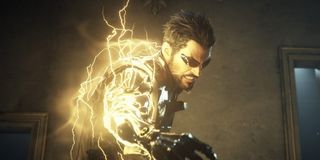 (Image credit: Square Enix)
The official PC specifications for running Deus Ex: Mankind Divided have been released by Square Enix and Eidos Montreal. The minimum and recommended specs are about what you would expect for the game, but the real question is if your PC can handle those requirements?
Gamespot listed the minimum and recommended requirements for Deus Ex: Mankind Divided after the information was made public over on the game's Steam page. You can check out both the minimum and recommended specs below.
Minimum:
OS: Windows 7.1SP1 or above (64-bit operating system required)
Processor: Intel Core i3-2100 or AMD equivalent
Memory: 8 GB RAM
Graphics: AMD Radeon HD 7870 (2 GB) or Nvidia GeForce GTX 660 (2 GB)
Storage: 45 GB available space
Recommended:
OS: Windows 10 64-bit
Processor: Intel Core i7-3770K or AMD FX 8350 Wraith
Memory: 16 GB RAM
Graphics: AMD Radeon RX 480 - 1920 x 1080 or Nvidia GTX 970 - 1920 x 1080
Storage: 55 GB available space
Additional Notes: 55 GB HD space includes DLC
It's nice to know that if you have Windows 7.1 with the SP1 update or higher, you can still run the game. Microsoft has been heavily pushing toward a Windows 10 ecosystem, even going as far as trying to forcibly have the operating system auto-install against the consent of users. Of course, the recommended specs is for a 64-bit version of Windows 10, which is what they believe will give you the optimal performance out of Deus Ex: Mankind Divided.
The minimum CPU requirements are rather light for a game as graphically rich as Mankind Divided. You'll only need a dual-core i3-2100 to boot the game. This means that if you have an older quad-core set at 2.4ghz you should be good to go. Alternatively, if you wanted to bump up performance, if your quad-core is overclocked at 3.0ghz then you should be more than capable of running the game without any problems.
The RAM requirements could give some gamers problems if they have yet to upgrade beyond 4GB. That's the minimum standard for most cheap PCs these days, so for an extra $30 you could slap 4GB of RAM into the system to boost it up to 8GB, assuming the motherboard supports 8GB. Even still, anyone with a gaming rig updated within the last couple of years shouldn't have any problems with the RAM. If you have an older system made within the latter end of the last decade, just check to see if the motherboard supports 8GB if you don't already have it installed.
The recommended specs for higher-end gaming is set for 16GB, which is basically targeting the upper echelon of graphics enthusiasts. It's hard to tell right now if the 16GB is a filler recommendation or if it's actually required to run some of the game's more complex mechanics, but we'll find out once the game launches near the end of the month.
You'll also need 55GB of hard drive space if you plan on getting Deus Ex: Mankind Divided and the additional DLC. As for the graphics... you will need at least a GTX 600 series or a Radeon 7870. If you don't have a card at least equivalent to either of those two, you may likely have to spend around $100 to get a decent GTX 700 series card or an entry tier Radeon 7xxx series GPU.
If you already have one of the newer cards, but you want to max the game's graphics out, well then you'll need a Radeon RX 480 or a GTX 970. Those will net you a 1080p resolution, so you'll likely need something much more powerful if you want to go ultra at 4K.
You can look for Deus Ex: Mankind Divided to launch on August 23rd for the Xbox One, PS4 and PC. Preloading is available now for Xbox One owners, it begins August 19th for PC gamers, and August 21st for PS4 players.
Your Daily Blend of Entertainment News
Staff Writer at CinemaBlend.