Here's What To Expect From Deus Ex: Mankind Divided's New Breach Mode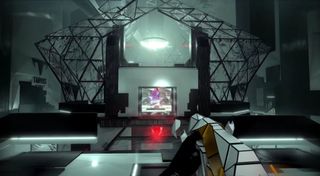 Square Enix and Eidos Montreal have announced that they have a new game mode that they will be introducing into Deus Ex: Mankind Divided called Breach Mode. The mode is an arcade-style mode that deviates from the typical story-oriented mechanics featured in the main game.
According to Gamespot, Square Enix and Eidos wanted to mix things up by allowing players to take advantage of arcade-style puzzles in the Breach gameplay mode within Deus Ex: Mankind Divided. Players can earn experience points, gear and credits that they can use to unlock new abilities to take on the harder levels.
In addition to beating each of the stages, there's also a score mode that will keep track of your progress and tally up your points. The score can then be used to "challenge" friends in a leaderboard competition of sorts. It's a way to keep players engaged. You can see what the mode looks like in action with the reveal trailer below.
This new Desu Ex: Mankind Divided feature will also contain the dreaded microtransactions. According to the producer of Deus Ex: Mankind Divided, Fluer Marty, they wanted to tread lightly with the game and they also wanted to make sure that people could play the full thing without diving into the microtransaction piggybank, stating...
That's kind of the typical bullet point in most PR friendly messages regarding microtransactions in AAA games. Saying a game isn't pay-to-win doesn't exempt it from being pay-to-win. What's more is that the mode seems to be rather thin for whatever they're trying to do with it. They mention the arcade puzzles in the Deus Ex: Mankind Divided mode and the increasing difficulty as reasons for players possibly wanting to utilize the in-app purchases, but it's hard to see why this mode in particular would actually need require microtransactions as opposed to maybe finding trinkets or credits in the main game that could then be used as extra lives in the Breach mode.
The missions seem very similar to the VR mission expansion pack for Metal Gear Solid, which focused on training simulations for players to play through using the same combat and stealth mechanics from the original game.
The new Breach mode seemed to be received with some moderate interest by gamers, but the inclusion of microtransactions was met with complete disdain, which is typical in today's gaming market given how abusive companies can become with microtransactions in some titles. We'll see if Square Enix and Eidos can keep to their word with the Breach mode in Deus Ex: Mankind Divided when the game launches later this year on August 23rd for the Xbox One, PS4 and PC.
Staff Writer at CinemaBlend.
Your Daily Blend of Entertainment News
Thank you for signing up to CinemaBlend. You will receive a verification email shortly.
There was a problem. Please refresh the page and try again.