The Next Tomb Raider Game Just Took A Big Step Forward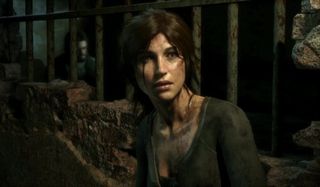 While a third installment in the new Tomb Raider series has not officially been announced yet, the development team at Crystal Dynamics has made an announcement that strongly points to just such a game coming down the pipeline.
Ian Milham, formerly of Visceral Games, has joined the team at Crystal Dynamics, which seems to be putting him in the position of director for the next Tomb Raider game.
This announcement comes to us via Tumblr, where you can find the Tomb Raider blog. And while that next Tomb Raider game has not been made official just yet, the announcement flat-out states that Milham will take over as Game Director of the franchise so, yeah, we're guessing there's a pretty good chance that a third game is currently in development.
In case Milham's name is ringing a bell, you may recognize him from his work on the Dead Space series, as well as last year's interesting take on the annual FPS series, Battlefield Hardline. Hardline, while off the beaten path for Battlefield games, was pretty well received by critics and fans alike. As for the Dead Space series, those games were ridiculously rad and prove that Milham has experience with subtlety as well as over-the-top action, so he seems like a perfect candidate to take on the reins of the Tomb Raider series.
As for how he landed the gig -- outside of talent, of course -- the former series director, Brian Horton, left Crystal Dynamics earlier this year in order to join Infinity Ward and work on the Call of Duty series.
Since Rise of the Tomb Raider is only about a year old, it's no surprise that we haven't heard anything about a sequel just yet. But with Milham coming on board, this certainly bodes well for the series, which introduced new life into a long-running Tomb Raider games that had floundered horribly in recent iterations. With Milham moving into his new position, maybe we'll even hear something more solid on a third new Tomb Raider game sometime in the next year.
As the original post points out, Milham isn't exactly new to the games industry, having worked on titles over the past two decades. He began as an environment artist before moving on to art Director and then Creative Director.
In the post, Milham states that adventure games have always been his "first love," which explains why he was such a good fit for the Dead Space series. Now he'll get to bring that passion to the "home of Lara Croft," a series that just so happens to be celebrating its 20th birthday.
We're looking forward to seeing what Milham and Crystal Dynamics have planned for the legendary heroine, so hopefully they're already at work crafting that next big Tomb Raider experience.
Staff Writer for CinemaBlend.
Your Daily Blend of Entertainment News
Thank you for signing up to CinemaBlend. You will receive a verification email shortly.
There was a problem. Please refresh the page and try again.