Legend Of Zelda: Majora's Mask Finally Comes To 3DS Next Spring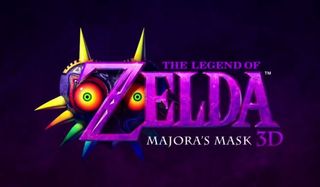 The highly anticipated portable remake to The Legend of Zelda: Ocarina of Time has finally been announced for the Nintendo 3DS. Get ready for The Legend of Zelda: Majora's Mask 3D in Spring 2015.
Continuing the long-running trend of remaking old school games for the newer generation of consoles, Nintendo finally announced during one of its Direct video presentations yesterday that Majora's Mask 3D will be heading to its portable gaming rig. Ocarina of Time hit the console at launch and, since then, fans have been clamoring for more classic Zelda action in the palm of their hands.
It's taken a while to get here, and we still have a bit longer to wait, but at least we finally know that one of Link's most popular adventures is on the way.
"The Legend of Zelda: Majora's Mask 3D brins Link's engrossing, spooky quest through the mysterious world of Termina to a handheld system for the first time with enhanced 3D graphics and added features for users to streamline gameplay for a more comfortable experience," reads a press release from the Big N.
There's also a Special Edition of the game launching in the UK, which will include a SteelBook case for the game, a Majora's Mask pin, a double-sided poster and more.
As a special treat for our readers in the UK, here's a little glimpse at what that Special Edition of the game will have to offer. As for you gamers in other regions, you might want to just avert your eyes if you don't want to become totes jelly.
Originally released back in 2000 for the Nintendo 64, Majora's Mask followed up the more light and whimsical Ocarina of Time with a decidedly more bizarre twist on the classic Zelda formula. If you want to start a heated debate, just head into a room full of Nintendo nerds and claim that one of these two titles is clearly the better game. Boy-howdy, that's an argument that will go on for hours, assuming that it doesn't first turn to copious amounts of bloodshed.
No matter which camp you fall into, though, we're all going to get to play this great game in a whole new way once it releases for the 3DS next year. For those of you who still haven't played Ocarina of Time, though, that means you have quite a few months to correct that mistake in time for the launch of the sequel.
Your Daily Blend of Entertainment News
Staff Writer for CinemaBlend.
Your Daily Blend of Entertainment News
Thank you for signing up to CinemaBlend. You will receive a verification email shortly.
There was a problem. Please refresh the page and try again.