Here's When You'll Be Able To Play The Next Episode Of Batman: The Telltale Series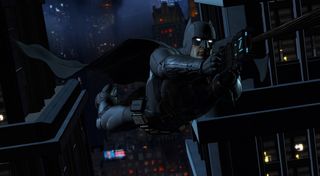 (Image credit: Telltale Games)
Telltale Games announced that the second episode for Batman: The Telltale Series is going live a lot sooner than you think. In fact, you'll be able to get your first taste of the episode during the weekend PAX West event in Seattle, Washington.
A press release was sent out indicating that during a special Crowd Play event this weekend at PAX West, gamers will get their first look at Batman: The Telltale Series' second episode, between September 2nd and September 5th. After that you'll have to wait a while to get your hands on the episode, but you can pick up a physical copy from retailers for the Xbox One, PS4 and PC starting September 13th, which contains a special season pass disc for all five episodes for this season's Batman: The Telltale Series. Those living in Europe will also be able to get their hands on the physical disc starting September 16th, just a few days after it launches in North America.
Following the season pass being made available at retailers on September 13th, Telltale will allow gamers to digitally download the standalone version of the second episode for PC, PS4 and Xbox One starting September 20th. The game will be available from the Steam store, the PlayStation Network, the Xbox Store and Telltale's storefront for digital distribution.
Unfortunately for gamers who have other systems that are not the PS4, Xbox One or PC, there is no definitive release date on when the second episode will be available. They do announce that sometime during the month of September they'll announce the release dates for Batman: The Telltale Series on mobile devices and older home consoles.
I'm sure you're curious what the second episode is actually about? It's entitled "Children of Arkham" and picks up where the last episode left off. The first episode was pretty action-packed, giving gamers a very different kind of Telltale title where the combat was fast and furious and there were even some options in how to plan out Batman's attacks ahead of him executing them, which seemed to fit in line with Batman's tactical prowess.
The visual art-style of the game has centered around Telltale's attempts to bring a "comic book to life". The outlined ink look gels well with Telltale's take on the Batman, which seems to be a little bit of a mix of "Batman: Year One", Rocksteady's Batman: Arkham series and its own take on the iconic hero. One thing that definitely stands out with this rendition of the character is that Telltale isn't afraid to get very, very violent. Players even get to choose some segments that determine just how far Batman goes when it comes to said violence.
As mentioned, you can look to get in some play time for the second episode of Batman: The Telltale Series at PAX West if you're attending the event this weekend. After that, you can get the game and the rest of the episodes from the season pass disc at retailers starting September 13th, or you can get your hands on the second episode as a standalone entry starting September 20th.
Your Daily Blend of Entertainment News
Staff Writer at CinemaBlend.
Your Daily Blend of Entertainment News
Thank you for signing up to CinemaBlend. You will receive a verification email shortly.
There was a problem. Please refresh the page and try again.