Check Out Kit Harington As The Villain In New Call Of Duty: Infinite Warfare Trailer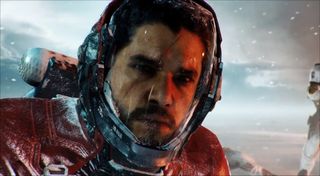 Activision wants to try hard to rekindle the trust and fervor from the gaming community for Call of Duty: Infinite Warfare. They've released a new trailer featuring Kit Harington from Game of Thrones as the villain, and so far gamers seem to like it.
The official Call of Duty You Tube channel has posted the full HD trailer featuring Harington in the role of Admiral Kotch, a nationalist of the Settlement Defense Front intent on wiping out the enemies of the new establishment.
The trailer for Infinite Warfare paints the picture of the SDF being driven mad with isolation and bitter resentment, causing their leaders to turn on the denizens of Earth. An all-out war ensues and players are thrust into the role of Captain Reyes, who unintentionally ends up in command of his own ship with a small band of soldiers at the ready.
The game has a somewhat Star Trek: Wrath of Khan theme to it, as Admiral Koch manages to wipe out most of Earth's defenses and attempts to take over their space shuttle ports, but Reyes and one of the last operable ships, named the Retribution, are there to intercept them and become a thorn in their side. This turns into a cat and mouse game of death, with Koch going to great extents to exterminate Reyes and the remaining crew of the Retribution.
On paper I have to admit that Call of Duty: Infinite Warfare sounds compelling. In execution it's a whole other story.
The small cinematic sequences look good, though. We finally get to see Conor McGregor's character in action and it turns out that he appears to be a villain working alongside Kit Harington's character. The only clip of him we get to see is when Harington's Koch tells McGregor to "save a bullet", obviously opting to have Reyes die at the hands of the UFC fighter's fists. Fitting.
The actual gameplay of Call of Duty: Infinite Warfare has done little to entice me. It still looks about the same as ever and even a touch behind the gruesome characterizations and gory storytelling in Call of Duty: Black Ops 3. Infinity Ward will have a lot to live up to in regards to last year's outing as far as storytelling and playable expanse is concerned. We do know at least that the space segments will be fully playable in Infinite Warfare and will feature free flight and combat. The on-the-ground segments will be typical Call of Duty fanfare with arcade-style gameplay and fast-paced shooting action.
A lot of fans were originally peeved that Activision would stick with the sci-fi setting for four years in a row, but it appears as if most gamers are forgiving them and willing to jump on the hype train for the game's release this November for the PS4, Xbox One and PC.
Your Daily Blend of Entertainment News
Staff Writer at CinemaBlend.
Your Daily Blend of Entertainment News
Thank you for signing up to CinemaBlend. You will receive a verification email shortly.
There was a problem. Please refresh the page and try again.