Capcom Releases Date For Street Fighter 5 Update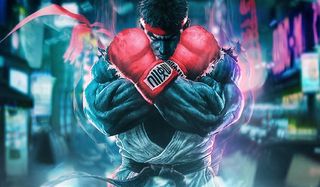 For you Street Fighter V fans in the audience, you don't have to wait much longer for the game's next big update, as Capcom has revealed a released date as well as oodles of details as to what can be expected from the upcoming patch.
The next Street Fighter V update is scheduled to go live on Sept. 22, introducing new playable characters, arenas, and loads of bug fixes to the beloved fighting series. Word went live recently over on the Capcom blog, where they unleashed all sorts of info about what will be coming in the next patch. Not a bad way to follow Tokyo Game Show, we think.
Probably the most exciting piece of content coming via the Sept. 22 update is the brand new fighter, Urien. This white-haired, suit-loving president of the Illuminati can be purchased with Fight Money when the update goes live, meaning you don't have to spend a dime on Urien if you've got enough of the in-game currency saved up. Otherwise, you may choose to buy him with actual funds via Steam or the PlayStation Network. Your call. If you have the season pass, though, you can expect to unlock him the moment the update goes live.
Also being added in this latest update to Street Fighter V are new Daily Targets to help you earn that Fight Money, as well as the ability to fight the CPU. That mode was mysteriously lacking from the standard versus mode lineup, so we're happy to see it finally getting plugged into the game.
Also receiving a boost in Street Fighter V will be Fighter Profiles with live stat tracking, making it easier for you hardcore players to see how you're doing and compare your performance with your opponents.
If you happen to have a season pass, you'll also be getting access to colors 3-10 for your fighters, as Capcom announces that costumes and colors will now be included in the goodies list for Street Fighter V season pass holders.
For everyone else, you can expect new premium costumes and colors, as well as the ability to purchase color bundles.
The last big inclusion in this SFV update are nine new environmental KO's. Rather than beating the stuffing out of your opponent with a big combo or flashy move to end the match, certain stages allow you to trigger an Environmental KO- ending the match with a fun little even playing out at the end of the match. New Environmental KO's will be added to Shadaloo Base, Hillside Plaza, Underground Arena, Forgotten Waterfall, Union Station, Kanzuki Estate, City in Chaos, Apprentice Alley and Lair of the Four Kings. If you want to see what they do, you'll need to boot up Street Fighter V on Sept. 22 and get to busting some scrubs.
Your Daily Blend of Entertainment News
Staff Writer for CinemaBlend.
Your Daily Blend of Entertainment News
Thank you for signing up to CinemaBlend. You will receive a verification email shortly.
There was a problem. Please refresh the page and try again.