Get The First Look At Amazon's Crucible And New World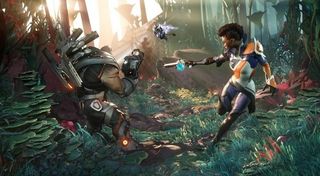 (Image credit: Amazon Game Studios)
Amazon has revealed more details about two of the three new games that they have planned for release on PC through their new Amazon Game Studios publishing branch. After getting a taste of the MOBA-style competitive title, Breakaway, Amazon has decided to help gamers get acquainted with Crucible and New World.
VG 24/7 did a detailed report on the three games, first focusing on Breakaway, the MOBA title that many League of Legends and Dota 2 fans will likely show some interest in, but it was Crucible that got some extra loving when it came to details and info.
Crucible is a 6-vs-6 competitive TPS game. I know this sounds like just about every other new shooter title released, such as Paragon and Battleborn, which have been the most recent of hero-style games alongside Hi-Rez Studios' Paladins, but Amazon has some interesting elements going on in their game that separates it from the herd.
For instance, you can backstab and betray your team during the middle of the match. Why? Maybe you were a plant the whole time and you just needed to wait for the opportune moment to switch sides. Maybe you took a fancy to someone else on the opposite team and you wanted to show your loyalty to them. Or maybe... you just like trolling. Either way, it's an interesting mechanic for the last-man-standing, elimination approach to Crucible. They have some gameplay that they've revealed in a new trailer that you can check out below, courtesy of AGD.
There will be Twitch integration for the game just like the other Amazon titles, enabling gamers to stream and have their streams viewed with ease. There's also talk of the currency for Stream+ being integrated where gamers can place "wagers" on the matches, but the details on that bit are a little thin. I hope Amazon takes very, very, very extreme amounts of care in how they handle this wager system so they avoid running afoul of both local and international gambling commissions. This issue has become widespread through the gaming community recently after various YouTubers were busted for promoting gambling sites for various titles such as Counter-Strike: Global Offensive and EA Sports' FIFA series.
The other game that Amazon has been promoting recently is New World, an open-world, persistent MMORPG. The game is probably one of the coolest sounding games to come along in a long time. It's set during an alternate history version of 17th century America during the establishment of colonial settlements. Players will take on the roles of either Native Americans or settlers and they can build, craft, explore and adventure through a massive open world. There's a teaser trailer that you can check out below to see what the graphics and some of the buildables will look like in the upcoming title.
Now that is a game that looks fun. The mix of realistic historical events with the supernatural reminds me a mix of games like Hellblade and The Secret World. I really like the ultra-realistic aesthetic, too. Hopefully, this game captures a horror vibe because we usually don't get horror-themed MMOs for whatever reason.
Anyway, I'm genuinely excited for New World. I love when companies attempt to try something new and seek to evolve and grow the gaming industry with ambitious, new ideas. So that sounds like a game worth keeping an eye on. According to VG 24/7, all three titles will be focused on releasing on PC first, but no release dates have been set... yet.
Your Daily Blend of Entertainment News
Staff Writer at CinemaBlend.
Your Daily Blend of Entertainment News
Thank you for signing up to CinemaBlend. You will receive a verification email shortly.
There was a problem. Please refresh the page and try again.