Here's How You Can Play ReCore For Free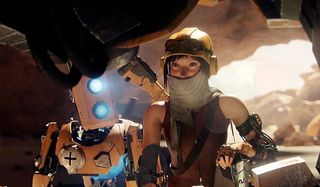 It's hard to get a little recognition for a smaller game these days, especially when you launch at the beginning of the annual fall flood of AAA titles. To that end, the folks behind ReCore have decided to make a portion of their Microsoft exclusive available free of charge.
Over on Xbox Wire, ReCore Senior Creative Director Joseph Staten has announced a "trial experience" for the recently released platforming game, ReCore. As Staten puts it, the team has been delighted to see folks enjoying the game and posting about their experiences on social media, but they wanted to bring even more players into the fold.
To that end, the free trial version of the game will let anyone dive into the first half hour of ReCore on Xbox One or Windows 10 PCs free of charge. In that time, players will meet protagonist Joule, her Corebot known as Mack, and begin their journey into the desert of Far Eden. For those who decide to purchase the game after the trial, players will be able to continue from exactly where they left off, as progress and Achievements will carry over into the full game. Consider it a demo that won't waste your time if you decide to commit!
The good news for ReCore newcomers is that the team has been raking in feedback following the initial launch of the game and also released several updates guided by those comments. Staten explains that the team aims to make the game as entertaining as possible, so expect even more updates further in.
This certainly seems like a win for everybody involved. It allows the developers to get ReCore into more hands than ever, as well as gives gamers a chance to try out a title they may have otherwise passed over. If they don't enjoy those first 30 minutes of gameplay, they can move on with their lives. If they pick up what ReCore is putting down, then they can buy the full game and keep right on trucking.
Not a bad move, considering what ReCore is up against. It launched right around the time of a new Destiny expansion, and a lot of folks are budgeting their gaming funds this time of year in preparation for the newest Call of Duty, Battlefield, Mafia, annual sports titles and the like. There's also a new Pokemon on the horizon, and Sony is set to launch their PlayStation VR and a boatload of titles in about a week. In other words, if you want your indie game to get noticed, you have to put in some extra work. What's being done now with ReCore seems like a great way to go about doing exactly that.
Your Daily Blend of Entertainment News
Staff Writer for CinemaBlend.