It's Your Last Chance To Play Madden 17 For Free, Here's How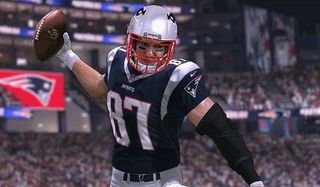 Football season is upon us, which means fans of the Madden series are neck-deep in the latest offering form EA Sports. If you need a bit of extra persuading, however, you can tackle the entire game for a limited time. You'll want to shake a leg, though, as the free play period expires later today.
A lot of schools are on fall break in the U.S. this week, meaning plenty of gamers have some extra time on their hand. If you find yourself in that camp and you also happen to love football, then now is your chance to try out Madden 17 without spending a single penny.
And we're not just talking about a demo here, though a demo would certainly be a bit more forgiving when it comes to squeezing in time to play. No, in fact, you can download and try out the entirety of Madden 17 today simply by heading onto Xbox Live or the PlayStation Network and hitting the download button.
Whether you want to get a peek at the career mode, check out the online community or just tool around in the menus to find out what's been added to this year's game, you'll have one day to play as much as humanly possible. Once this lazy Monday wraps up, though, you'll no longer have access to the game.
What EA is hoping is that you'll want to keep playing, though, and decide to make a purchase after this brief demo session wraps up. We're seeing more and more publishers try things like this, including the recent indie platformer ReCore on Xbox One and PC. But while ReCore only gives you 30 minutes to plow as far as possible into its story, the Madden offering is literally the entire game for the rest of the day. We're not sure on the file size, either, so you might want to act with a quickness if you were hoping to spend your afternoon taking control of your favorite team.
Madden 17 only hit shelves about a month ago, offering the usual array of tweaks and all of the most recent rosters. The ability to update the game on the fly also means a continuation of the more accurate to the real world settings for players and rosters, as well as new in-game commentary that will discuss current goings on of the NFL.
We haven't had a chance to dip our toes into the Madden 17 water just yet, but we don't doubt that some of our readers are series fans. Let us know your thoughts on the latest installment in the comments section below. Otherwise, get to downloading and enjoy the game free for just one more day.
Your Daily Blend of Entertainment News
Staff Writer for CinemaBlend.