Payday 2 Is Bringing Back Your Favorite Movie Assassin With New DLC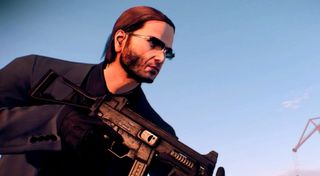 Overkill Software have announced that they will be bringing back some John Wick material to Payday 2. The iconic assassin first appeared in the game when the original movie released, and now he's brought back to the first-person heister as new DLC.
The trailer was announced over on the official Overkill Software YouTube channel. John Wick is already a playable character in Payday 2, but in celebration of the upcoming release of the new movie, they announced that they have a brand new weapon pack available right now for Payday 2 gamers.
The pack includes three brand new weapons, one new throwable item, four new masks, four new patterns that can be applied to masks, four new materials, and four new achievements.
The DLC based on John Wick: Chapter 2 is currently available for $4.99 over on Steam. If you're curious about the actual weapons that you can utilize in the game, there's the Desertfox Sniper rifle, which is a bullpup sniper rifle for long-range targets and a high-powered scope.
The Contractor Pistol is also among the weapon cache, featuring a steel sight, extended magazine, and a liquid compensator. It's sexily designed pistol with an ergonomic grip and a light design. The Jackal sub-machine gun is based on a mix of the MP5 and UMP SMGs, featuring the stock of the MP5 but the slip magazine of the UMP-45. It sports a civilian barrel, multiple stock options and a twinkle grip. There's also a lightweight throwing knife for taking down targets at a distance when you're all out of ammo.
The four new masks in the Payday 2 DLC update based on John Wick: Chapter 2 features a puppy dog, a futuristic sports helmet, a medieval looking masks and a creepy eastern mask.
The original DLC featuring John Wick the character came out back in 2015 as a free update. It came with two pistols, three sunglasses, and the ability to use pistols akimbo. John Wick back then also came with 15 new weapon modifications.
Overkill said a while back that they had lots of new content for the game, and a couple of years worth of new features to be implemented. Payday 2 is one of those rare titles where as long as it keeps getting new content gamers will keep coming back to play it. It's such an intense and fun experience, and the variety of weapons, gear, and customization have made it one of the most addictive games I have ever played.
It's sometimes hard to pull oneself away from Overkill Software's FPS heist title and with the cool new DLC based on the weapons featured in the upcoming flick John Wick: Chapter 2, I imagine some gamers will find themselves being drawn right back into the fold. And can you really blame them? John Wick is one cool dude and he has some super cool weapons at his disposal.
The DLC is available right now for the PC version of Payday 2.
Your Daily Blend of Entertainment News
Staff Writer at CinemaBlend.