Titanfall 2 Reviews Are Coming In: Here's What They're Saying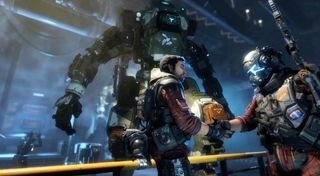 (Image credit: Respawn Entertainment)
EA and Respawn Entertainment have Titanfall 2 set to go live on October 28th but some critics are already sharing their thoughts about the game via social media and through detailed reviews. And here's some of what they're saying.
That tweet comes from GamesRadar, who gave the game a lot of praise, saying that the campaign was "endlessly clever" and that it was "inventive" for what Respawn was aiming to do. Pretty good comments so far, yeah? The only major downside that GamesRadar had was that the campaign was shorter than they would have liked... but I'm sure the whole campaign in Titanfall 2 is likely designed to help prepare you in some small part for the unrelenting, uncompromising and unforgiving multiplayer.
Gamespot, in their review, agreed that the single-player campaign was too short but the playability and multiplayer more than made up for it, summarizing Titanfall 2 as a well-rounded shooter with a multiplayer component that knows how to space out the break-neck highlight reel moments...
Keep in mind that the average length of the campaign is being said to clock in around five hours. So you'll have to take into consideration if you think this is an adequate length for the campaign or not in a game mostly focused on multiplayer. That's also the average length for most Call of Duty single-player campaigns, with the exception of entries like Call of Duty: Black Ops 2 and Call of Duty: Black Ops 3, since both games took divergent routes in how they portrayed the main campaign missions.
However, a five-hour campaign is about par the course for Respawn's track record, which included the first to Call of Duty: Modern Warfare games.
IGN also put up their thoughts on Twitter for their preliminary review of Titanfall 2, and they seem to be all-in on the game. Check it out.
One of the more popular responses came from Giant Bomb's Jeff Gerstmann, who joked about burning ninja stars.
Polygon had a lot of little nitpicks to share in their review of Titanfall 2, picking apart some narrative inconsistencies and characterizations that they felt didn't do the game's campaign quite the justice that they had hoped for, but the most important parts of the game were the parts that they enjoyed the most, writing...
Now if that's not an endorsement to pick the game up I don't know what is. A shooter game with near pitch-perfect controls? That's like a marriage without any arguments.
Some of the more reputable gaming-centric reviewers such as TotalBiscuit have not had a chance to lay into Titanfall 2 enough to get up a video with the other outlets, but it was mentioned by TotalBiscuit on Twitter that the video will likely arrive next week.
Even still, the preliminary reviews seem to be positive and barring some minor issues with the campaign length and narrative, most reviewers seem to thoroughly enjoy Respawn Entertainment's Titanfall sequel. The game is due to drop in full on October 28th for PC, Xbox One, and PS4.
Your Daily Blend of Entertainment News
Staff Writer at CinemaBlend.