Two Characters From World Of Warcraft Are Coming To Heroes Of The Storm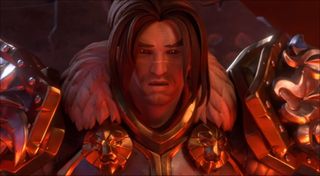 Blizzard Entertainment is currently holding BlizzCon in Anaheim, California. The company is unveiling lots of new content for their games, including two characters from World of Warcraft joining their ever-so-popular MOBA, _Heroes of the Storm. _
The announcement about the new characters was made during the BlizzCon keynote speech to open the event, and Blizzard quickly followed that up by posting the trailer on the official Heroes of the Storm YouTube channel.
The trailer is just over three and a half minutes and features both Varian and Ragnaros, both of whom are set to appear in Heroes of the Storm this year. One will release later in November and the other will release in December.
The trailer starts on a battlefield before fading into a flashback where a burning leaf lands on a chipped log; a voice over explains that the "king has fallen" and that Varian was a father, a friend, a warrior and a defender of the Alliance.
The trailer shows Varian making a journey through various locations, starting in a peaceful forest and making his way into a burning volcano where he battles Ragnaros in an epic showdown. The trailer ends with the voice over saying that Varian will always remain a hero, as he makes one final leap toward Ragnaros before it cuts off.
The trailer is a bit of a quick retelling of the tumultuous journey Varian led through World of Warcraft, going through his ups and downs and eventually finding redemption at the head of the Alliance. The tragic tale of the character spanned multiple expansion packs and novels, fleshing out Blizzard's high-fantasy world with a lot more characterization and detail that you wouldn't regularly find from simply clicking through a few text boxes of an NPC in an MMO.
The trailer only focuses mostly on Varian despite the fact that both he and Ragnaros will be joining Heroes of the Storm. They appear to give away some slight details on Varian's abilities, being able to go in and sword and board or utilize dual-blades as an assassin. Ragnaros' attacks are a lot more straightforward, having the ability to spew fire, swipe away at enemies with the mace or crush foes.
The two characters aren't surprising to see in the popular free-to-play MOBA, and I'm sure some might even say that a character like Varian Wynn is long overdue given his pedigree within World of Warcraft.
Fans of Blizzard are excited nonetheless. Some were hoping for more Diablo characters, but they were excited enough given the way the company introduced the fallen hero and the raid boss. You have to admit that Blizzard really does have a way with trailers.
According to Polygon, Varian will enter testing next week, and Blizzard has already confirmed that Ragnaros will appear in Heroes of the Storm at some point in December. Two little gifts for gamers to round out 2016.
Your Daily Blend of Entertainment News
Staff Writer at CinemaBlend.