Hello Games Finally Responds To The Reception Of No Man's Sky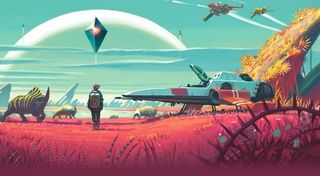 (Image credit: Hello Games)
The promotion of No Man's Sky as the evolution of console gaming and a revolution in space simulation fell flat with a lot of people... especially PC gamers. The reality is that the title was what you would expect from an indie studio. Well, after all of the criticisms, feedback and comments, Hello Games finally responded to it all.
Over on the official blog for No Man's Sky, Hello Games revealed that there's a new update coming soon that will lay the groundwork for an all new gaming experience in the open-universe sci-fi space sim. They also acknowledge a lot of the criticisms they've been receiving over the past few months since the release of No Man's Sky, writing...
They're calling the new update the Foundation, because it lays down a foundation for the future of No Man's Sky. This will be used for another upcoming update that will allow Hello Games to implement planetary base building. Players will be able to build bases, store equipment, and likely craft an assortment of new items.
Unfortunately, Hello Games does not give a release date on when the Foundation update will launch, nor do they say in what time frame we can expect to see the base building become available.
The game originally received a lot of heavy criticism from gamers because they felt as if No Man's Sky didn't deliver what was advertised. There were a lot of things featured in the trailers that gave the game the look of something that it wasn't.
The two things that really made some gamers peeved was that the No Man's Sky seemed empty to a lot of people and that it lacked multiplayer -- many gamers expected to encounter other players at some point in their journeys, similar to how you randomly encounter people in Ubisoft's Watch Dogs 2. However, the multiplayer is not implemented and you can't encounter players the way some people thought.
The issue with the game seeming empty was just the way most procedurally generated open-world games are. Some gamers felt as if there just wasn't anything to do other than scan animals, go spelunking, scan some wildlife in caves, fly into space, buy and sell stuff, and scan some more lifeforms.
The rinse and repeat nature of the game was expected by some people who have become accustomed to that style of gameplay from titles like Subnautica and Starbound or DayZ and Rust. I'm not sure what more they could add to the game that isn't already there, unless they can manage to get the multiplayer to work as intended, and maybe throw in a few more threats to give the game some feeling of intensity and emergence. But otherwise it's the typical survival game that we would expect from most indies.
We'll see if Hello Games can recover No Man's Sky after they lay the new groundwork for future updates with the Foundation patch, which is coming soon for PC and PS4.
Your Daily Blend of Entertainment News
Staff Writer at CinemaBlend.