Which Video Game Franchise Terry Crews Wants To Star In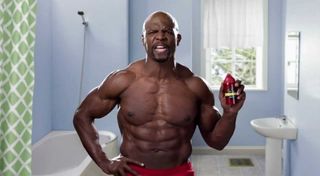 It's not too often that Hollywood actors pine about wanting to be in a video game. Oftentimes it's the other way around, with developers and publishers trying to court Hollywood talent. Well, in this case Terry Crews actually mentioned that he wants to star in a video game franchise.
According to Gamespot, Terry Crews -- an actor who has had a notable and established career in movies such as The Expendables and Terminator Salvation, and TV shows like Everybody Hates Chris and Brooklyn Nine-Nine -- mentioned that he would love to voice a character in Blizzard Entertainment's Overwatch.
The news popped up first when Terry Crews apparently made a comment on a Reddit thread about saying that he would love to play the character of Doomfist. Gamespot reports that the account was verified, suggesting that it may have been from Crews.
Things escalated when a picture was posted on Terry Crews' Facebook page, showing the actor appearing at Blizzard's headquarters to visit the Overwatch development team. This has led people to believe that Crews might end up voicing a character in the game.
A lot of people thought it would be pretty cool if he did voice the character of Doomfist, and they even hoped that Blizzard would get out ahead of the hype train and announce the character.
Given that Terry Crews just recently visited the Blizzard studios on December 15th, we have no idea what the meeting was like, and what took place regarding the actor and the game. It could have just been a cordial meet and greet, or it could have turned into something more.
Terry Crews is no stranger to video games, though. This wouldn't be his first rodeo in the realm of interactive entertainment. He previously took over the voice acting duties of Michael Clarke Duncan in Saints Row IV following his untimely death. Volition had Crews pick up and finish the lines for the character Benjamin King.
Terry Crews' recent attempt to campaign Blizzard to play Doomfist has sent a lot of gamers into overdrive, theorizing about whether or not Doomfist will actually make it into the game.
There are now YouTube videos up explaining how Doomfist first made it into the discussion and what kind of class type he could be, or what kind of weapons he could use.
This news comes shortly after Blizzard released the hacker character Sombra into the world of Overwatch, giving gamers a very different kind of character to play in the competitive first-person shooter. Sombra had been teased all year long, leading up to her reveal at BlizzCon this past year in Anaheim, California.
If Doomfist really is scheduled to appear in Overwatch at some point in the future, he likely wouldn't arrive in the game until sometime in the middle of 2017. This is all assuming that Doomfist is actually going to be a real character, and also assuming that Terry Crews is actually in talks with Blizzard to voice that character. For now it's just a dream held onto dearly by the actor and fans of the first-person shooter.
Staff Writer at CinemaBlend.
Your Daily Blend of Entertainment News
Thank you for signing up to CinemaBlend. You will receive a verification email shortly.
There was a problem. Please refresh the page and try again.