New Watch Dogs 2 DLC Will Introduce The School Bus From Hell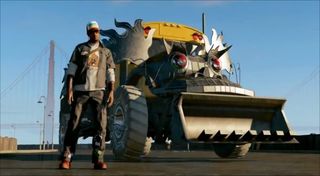 Ubisoft will be supporting Watch Dogs 2 with a supple supply of timely DLC, the first of which is called the T-Bone DLC Bundle. The content introduces gamers to the school bus from hell, and there's a new trailer to show you exactly why it's called that.
The minute long trailer was posted up recently on the Gamespot YouTube channel. The trailer starts with Marcus waking up from a nap on the couch as he gets a call from T-Bone who informs him about a special bus he has decked out... a school bus from hell.
The vehicle becomes operable in Watch Dogs 2, featuring giant subwoofers on the back and side, an armored dragon face on the front, complete with metal flaming flairs on the side and a giant bulldozer blade latched onto the front.
The giant, monster truck-esque tires allow it to barrel through just about anything without slowing down. The bus is a heck of a lot faster than you might have been expecting, capable of taking jumps and screeching corners at high speeds. It's certainly a different style of vehicle than what you may have been used to from Watch Dogs 2.
There's even a special T-Bone outfit included in the pack. The outfit sees Marcus in a poo-shirt with a trucker's cap, boots and cargo pants. It's like if a mechanic decided to turn into a new-age hacker.
They've also decided to expand on the enemy AI types in Watch Dogs 2, which is an interesting decision by Ubisoft. There's a new Grenadier type that players will also have to face off against. They tie the mention of this new AI enemy type into the new co-op challenges, hinting that these Grenadiers will definitely be available during the online multiplayer challenges.
I'm curious if the new enemies will also be available in the single-player campaign or if that's stuck the way that it is? It would be cool if new enemies, vehicles and certain features that they tack onto the game post-release would be retroactive for the single-player content.
Anyway, they didn't go into detail with what the new co-op challenges are, but they'll likely be a lot more amped up when you're driving around in T-Bone's makeshift school bus.
The reactions to the DLC have been kind of mixed in the comment sections. Some people were glad Ubisoft is supporting Watch Dogs 2 so quickly after its release in November. Others felt as if the new bus is just a lazy cash grab since they claim it feels like something out of Saints Row instead of Watch Dogs. It is true that the first game was a lot more grounded, featured a more realistic setting and had a grittier tone to it. Ubisoft went with a more Saints Row and GTA vibe for the sequel.
If you enjoy Watch Dogs 2 you can get your hands on the newest bit of DLC, which is available right now for home consoles and PC.
Staff Writer at CinemaBlend.