Xbox Live Gold Has A Ton Of New Free Games For January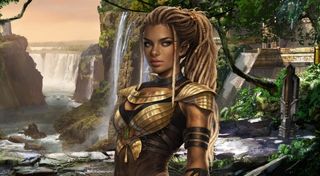 (Image credit: Microsoft)
December is now behind us and 2016 is but a memory. Looking forward through 2017, the first month of the year offering Games With Gold is now upon us and Microsoft has a helping handful of titles available for gamers... for free.
Gamespot quickly did a rundown of what's been made available for January across both the Xbox 360 and Xbox One.
*Xbox One: *
*• *Deathtrap: World of Van Helsing (January 1-31)
• Killer Instinct Season 2 (January 16-February 15)
• _Outlast _(December 16-January 15)
*Xbox 360: *
*• *The Cave (January 1-15)
• Rayman Origins (January 16-31)
The offerings for January aren't quite as explosive as they were for January last year. For instance, if you hop into the time machine and travel back 12 months, we would find that Microsoft was still offering four free games, but in January, 2016 they had Killer Instinct: Season 1 and Zheros on the Xbox One. Technically that's equivalent to this year's offerings in January, which features the second season of Killer Instinct (which is a great nod to last year's offerings) and an indie game called Deathtrap: World of Van Helsing.
The real difference between the two January offerings isn't in the Xbox One titles, but in the Xbox 360 titles. Last year the Games With Gold offerings included DiRT Showdown and Deus Ex: Human Revolution for the Xbox 360, both of which are highly lauded games. It's a stark difference from this year's line-up of The Cave and Rayman Origins.
I think that Killer Instinct Season 2 might make up for the lack of explosive games this month, and that alone seems to give it an edge over what Sony rolled out for PlayStation Plus subscribers over in the PlayStation camp.
The big difference is that even if Microsoft may have a misstep or two for an Xbox One or Xbox 360 game, they usually have another game to make up for it. There's usually at least one game each month that appeals to somebody somewhere, so they've managed to build up a strong following of gamers with their Games With Gold program. Heck, I wonder if people still just purchase Xbox Live Gold for the online multiplayer or if it's just for the four free games each month? Also, allowing all of those games in the library to carry over into the Xbox Scorpio's setup is a smart move and will likely convince a lot of people to make the leap when the console does go live later this year.
For now, gamers can look forward to what free games are now up and out for the Xbox 360 and Xbox One as part of the free Games With Gold program for January. Also, it might not be a bad thing to get in on the Season 2 content of Killer Instinct so you can catch up on the game's story and developments heading into Killer Instinct: Season 3.
You will need an active Xbox Live Gold subscription in order to download and access the games, but you get to keep the titles once you subscribe.
Staff Writer at CinemaBlend.
Your Daily Blend of Entertainment News
Thank you for signing up to CinemaBlend. You will receive a verification email shortly.
There was a problem. Please refresh the page and try again.