Xenoblade Chronicles X Trailer Details Gameplay Info, Questing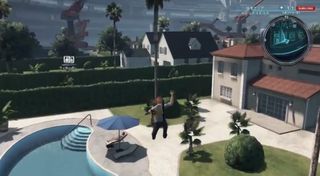 Nintendo released a bit more info about one of the more highly anticipated and very secret open-world JRPG from Monolith Soft. The name of the game is Xenoblade Chronicles X and the concept of the game is pretty ambitious.
The best way to describe XCX is that you should imagine an MMO where it's not a boring wasteland, but actually features an engaging environment with dynamic quest structures. Now imagine that you get customizable vehicles, a massive city hub to explore and all sorts of futuristic weapons to hunt down sci-fi inspired monsters on a foreign planet. If that sounds like a bucket-load of fun to you then you might want to add Xenoblade Chronicles X to your watch-list.
The general gist is that players can create and customize their character and then venture to explore the world around new Los Angeles, the remnants of a city that crash landed on a foreign planet.
The basic premise of the player's goals is to explore the world outside of Los Angeles, research the planet's wildlife and gather data. Of course, there's more to it than just going around collecting data, but the general gist is to research and unlock new information about the foreign planet. Prompting players to actually search every nook and cranny of the environment puts the game back into the old-school elements of gameplay, where it was about players exercising their own wits to problem solve and open up new areas by simply playing.
During the E3 Treehouse presentation, it was also made apparent how the game doesn't focus on a lot of hand-holding, so players will be tasked with a quest but they won't be led around by the nose or forced into a linear play-style when rummaging about the game world.
The one thing that really stood out to me was the deep customization and scaling system. Players being able to modify their character, earn new weapons, unlock new gear and acquire the mechs is pretty neat. Being able to upgrade the mech is another feature that could really help with the game's replay values given that the whole mech thing is another layer of a metagame.
One of the things I thought was most impressive was the cityhub that looked an awful lot like something you would find from a GTA game. Walking around with the civilians there or seeing the player-character hop through the backyards of suburban housing areas is pretty cool. The one question that instantly comes to mind is how much interaction or questing can be done within the hub? Like, can you interact with the lady sunbathing in the backyard? Would she have a side-quest or something?
The video does mention that there are plenty of side-quests for players to take on or find, so I guess we'll just have to wait until the game gets closer to release before finding out more about how interactive certain areas are in the game.
You can look for Xenoblade Chronicles X to launch some time next year, exclusively for the Wii U. You can keep an eye on Nintendo's official website for more info.
Staff Writer at CinemaBlend.
Your Daily Blend of Entertainment News
Thank you for signing up to CinemaBlend. You will receive a verification email shortly.
There was a problem. Please refresh the page and try again.