Buy An Xbox One At Target This Week, And Get A New Game Included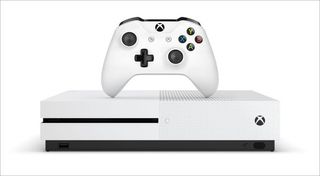 Most Xbox One S systems available for purchase right now include a free game. However, Target's current deal is sweetening the pot by throwing an additional title on top of that.
Gamespot is reporting that the deal is available right now as part of a limited bundle offer from Target, who will throw in a free copy of Madden NFL 17 with the purchase. The article questioned what that would mean for people who purchased the Madden NFL 17 bundle pack where you can get an Xbox One S and Madden for $299. They figured maybe people would end up with a second copy of the exact same game.
As hilarious as the above scenario might be, it would end up turning out to be a serious cluster fail from a logistics standpoint. And while these sorts of things have happened in the past, in reality, the bundle deal is limited to only certain bundles featuring certain games.
Gamespot mentioned that Battlefield 1, FIFA 17, Minecraft and Gears of War 4 were all part of the line-up, but if you visit the Target page (opens in new tab) you'll find that the only two listed bundles are for the Xbox One S that comes with Minecraft and the one that comes with Battlefield 1. They do, however, mention that the bundled in game may vary depending on what's in stock at your local Target store.
Both bundles clock in at $299.99. So for $300 you're getting a 500GB Xbox One S console, a free game, and Madden NFL 17.
If you're into football games then this is clearly a great deal to get in on. If you managed to miss out on the bundles during the holiday rush last year when the Xbox One and Xbox One S were discounted down to $250, then the extra $50 will score you an extra game. This arrives just ahead of the popular Super Bowl game.
Gamespot is also reporting that there are some discounts on Madden NFL 17 as a standalone product during this week as well. You can get your hands on the game for only $35 for a limited time. That's $25 cheaper than what it usually costs.
There's expected to be further deals on sports related titles, especially football games during the week of the Super Bowl. This has been one of the ways that EA has managed to capitalize on the sports season and boost the appeal and presence of the Madden NFL games.
The Xbox One struggled previously to make any sort of impact against the PlayStation 4 early on in eighth gen, but throughout the latter half of 2016, Microsoft really kicked it into gear with some solid bundle deals and a good showing of the Xbox One S.
They almost defeated Sony during December's NPD, with both the PS4 and Xbox One moving more than a million units. It appears as if Target wants to continue to take advantage of the holiday momentum with these bundle deals featuring Madden NFL 17 just ahead of the Super Bowl.
Your Daily Blend of Entertainment News
Staff Writer at CinemaBlend.
Your Daily Blend of Entertainment News
Thank you for signing up to CinemaBlend. You will receive a verification email shortly.
There was a problem. Please refresh the page and try again.