How To Play The For Honor Open Beta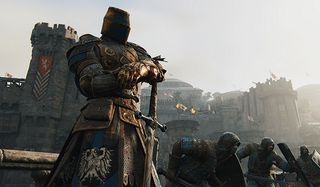 A time of war draws near, with three distinct factions inviting new allies to take up arms for their cause. In other words, For Honor is gearing up for launch but, before that day comes, the game will be put through its paces one final time in the form of an open beta. If you're looking to get in on the action, we've got everything you need to know.
For Honor is set to launch on Feb. 14, meaning we're only about a week out from the game being available on the PlayStation 4, Xbox One and PC. Before that can happen, though, the team at Ubisoft Montreal wants to invite everyone to pick up a sword and join the battle, so now it's time to talk about how everyone can join in with this weekend's open beta.
When is the For Honor beta?
The For Honor beta will run through this coming weekend, Feb. 9-12. In case you missed the intro, that means the beta will wrap up just a couple of days shy of the game's full launch. We think this is a pretty brilliant plan, giving folks a chance to try out the game right before launch and increasing the odds they'll want to grab it when it launches just 48 hours later. It's hard to grow cold on a game in that period of time. Also, it's a chance for the developers to put the game through its paces on a grand scale before actually going live. If there are any final kinks that need to be worked out, hopefully they'll have enough time to take care of business before For Honor arrives on Feb. 14.
How do you download the For Honor beta?
In another wise move, Ubisoft is allowing folks to download the For Honor beta nice and early. In fact, VG24/7 points out that you can get your hands on the beta right now, which should be plenty of time to get it downloaded before going live on Feb. 9. If you're gaming on PC, you'll want to boot up Uplay and head to the "Free Games" list. That's where you'll find the open beta. Just click on it and start the download. If Steam is your preferred service, then you'll just need to head to the "Play Now" tab, find the beta and get to downloading.
On either the PlayStation 4 or Xbox One, simply head to your consoles respective marketplace, search for the beta and hit that download button. No matter which route you go, the beta clocks in at just about 19GB in size.
What if I was in an earlier beta?
If you were in an earlier version of the For Honor beta, then you've got things especially easy. That is, of course, assuming you kept the client. If that's the case, then just boot it up and an automatic download of "Update 1.03" should begin. If it doesn't work the first time, just exit the client and jump back in. The download should start on its own.
But what if I deleted the client?
If you were in an earlier beta and have since deleted the client, you can still get in on the action. On Uplay, the new client should be in your library and ready for a click/download. On the Xbox One, you'll need to head to the "Ready to Install" tab and select the beta client from there. Similarly, on the PS4, just head to your Library and re-download the closed beta app. One you boot it up, the update should begin and you'll be ready for this weekend.
Your Daily Blend of Entertainment News
Staff Writer for CinemaBlend.
Your Daily Blend of Entertainment News
Thank you for signing up to CinemaBlend. You will receive a verification email shortly.
There was a problem. Please refresh the page and try again.