Metal Gear Solid Has A Porn Parody, Because Quiet Exists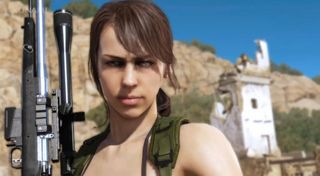 One would seriously have to ponder if a Metal Gear Solid V: The Phantom Pain porn parody would exist without the uber-popular Quiet? Well, we''ll never know because in this reality Quiet does exist and there is a porn parody of Metal Gear Solid V: The Phantom Pain.
The trailer was posted up over on Brazzers' YouTube channel Trendzz. The trailer is only a minute long, featuring cheesy cosplays of Venom Snake and Quiet. I'm not really sure what's going on in the setup, but it starts with a helicopter catching fire and crashing in the middle of the desert. The fake Snake and Quiet (who is named Hushy) appear to be engaged in some kind of sniping standoff, and fake Snake attempts to make his way down closer to Quiet using only half of a cardboard box.
The hilarious part about it is that the comment section absolutely blew up because they couldn't figure out why the fake Snake couldn't use a full cardboard box. Jokes ensued about how Brazzers didn't have enough GMP (Metal Gear Solid V's in-game currency) to purchase a proper cardboard box for him to sneak around in. A meta discussion broke out about all the different ways that cardboard boxes could be acquired for free.
Yes, there were discussions about how to acquire free cardboard boxes on a trailer for a porn parody of Metal Gear Solid V: The Phantom Pain. I imagine only a Hideo Kojima game could spawn such tangentially relevant but odd conversations.
This kind of absurd parody based on a popular video game is nothing new for Brazzers. They've been consistently rolling out a lot of these porn parodies lately, especially after they hit it big with parodies of Overwatch and Pokemon, the latter of which contained one of the creepiest looking cosplays of Pikachu ever.
Brazzers even managed to tap the very popular Call of Duty franchise, but making a parody based on that series is a little bit more difficult since they don't really have any easily recognizable characters or traits, other than massive Hollywood-inspired blockbuster set-pieces; and obviously Brazzers wasn't going to make a $100 million porn parody of Call of Duty.
Most people have taken the Metal Gear Solid riff in good fun. It's cheesy and over-the-top. Brazzers obviously aren't taking themselves too seriously and they seem to be desperately trying to lure in the video game demographic by mimicking other popular brands, usually by giving them absurd or crude titles.
The Metal Gear Solid V: The Phantom Pain parody from Brazzers is available right now. A lot of comments noted that the parody seemed to contain more content than Konami's Metal Gear Survive, the upcoming zombie survival game based on the assets from The Phantom Pain.
I'm curious which franchise Brazzers will attempt to go after next? Assassin's Creed maybe? How about GTA? The barrel of content is deep.
Your Daily Blend of Entertainment News
Staff Writer at CinemaBlend.