Fallout 4 And Skyrim Mods Are Being Capped On Consoles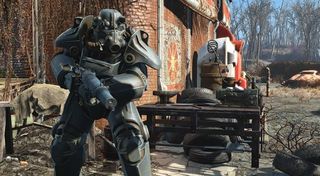 (Image credit: Bethesda)
Bethesda has made a rather unpopular decision for Fallout 4 and Skyrim: Special Edition on home consoles. They decided to cap how many mods you can use on the PS4, PS4 Pro and Xbox One. This arrives shortly after they added PS4 Pro support for their post-apocalyptic game through a recent update.
Gamespot is reporting that Bethesda followed up their PS4 Pro patch with update 1.9, gamers began to discover something that was not featured in the patch notes for both the Xbox One and the PS4: there's a hard cap on the mods.
Gamers can now only load up 150 mods on Xbox One and only 100 mods on PS4 for Fallout 4 and Skyrim: Special Edition.
I'm sure people who don't regularly use mods are thinking "150 mods is a lot of mods!" And, it's true that a 150 cap does seem like a lot, but once you start installing mods, especially for a Bethesda game like Fallout 4, the fill-rate goes up rather quickly.
This is in addition to the other memory caps they have in place, which is 2GB for the mods. Many people have been asking for Bethesda to increase the mod memory cap to 5GB. However, after a year of begging, the 2GB limit is still in place.
Now gamers will not only have a 2GB limit as far as storage capacity is concerned for mods, but there will also be a 150/100 mod cap when it comes to installing console mods.
The real news here was that the new hard cap wasn't featured in Fallout 4 or Skyrim's 1.9 changelog. So gamers found out the hard way that they would have to remove some mods in order to play the game.
Bethesda responded to the issues raised by gamers by making statements on the forums, where they explained...
The wording about the storage limits is a bit odd, because they say that the additional storage capacity will allow for larger mods within the 150/100 cap, but they don't mention anything about storage upgrades in any of the recent changelogs.
It's a confusing matter, but Bethesda cites stability as the reason for putting in the hard cap for Fallout 4 mods and Skyrim mods on PS4 and Xbox One. Some users were also further confused because it doesn't solve the problem of some users having conflicting mods causing stability issues even within the storage and capacity limits.
The new hard cap mostly affects a lot of people who have small modifications in place, such as individual mods installed that affect specific weapons, monsters and stats, as well as lots of small mods that add or alter clothing, armor and game world configurations. Bethesda hopes to improve on the experience of having mods on the home consoles, but they don't say if they'll be removing the mod capacity or storage caps in Fallout 4 or Skyrim anytime soon. Also, sadly, the PS4 Pro update does not increase storage capacity.
Your Daily Blend of Entertainment News
Staff Writer at CinemaBlend.