A Pikachu With Ash's Hat Is Coming To Sun And Moon, Get The Details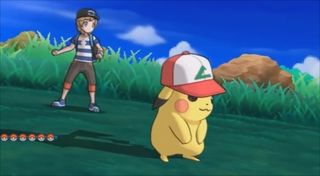 (Image credit: Nintendo)
Nintendo's Pokemon Sun and Moon were huge hits when they launched last fall for the Nintendo 3DS. Gamers have been putting in a lot of time with the titles and Nintendo is rewarding them with a new Pikachu wearing an Ash Ketchum hat.
In celebration of the upcoming Pokemon movie, Serebii is reporting that the magazine CoroCoro has revealed that the Pokemon Company is handing out free serial codes for a special Pokemon wearing a classic Ash Ketchum hat and other special hats if you pre-book your tickets for the movie.
The pre-booking will enable you to get a hold of the serial code and use it to unlock a hat for Pikachu within Pokemon Sun and Moon. You can only use a serial code once. However, you can use different serial codes on your version of the game, so if you can manage to pre-book additional tickets or get your hands on extra codes, you can use them to unlock new Pikachus with hats in Pokemon Sun and Moon.
When you retrieve your serial code will determine what kind of hat you'll gain for the Pikachu. If you retrieve the code between April 15th and May 1st or between July 19th and July 31st you'll gain access to the original Ash Ketchum hat from the Pokemon cartoon.
Between May 3rd and May 15th, and, later on, between August 2nd and August 14th, you'll be able to retrieve a Pikachu wearing a Hoenn Cap. Between May 16th and May 29th, and between August 16th and August 28th, you'll be able to retrieve a Pikachu with a Sinnoh Cap. From May 31st to June 12th and again between August 30th and September 11th you'll be able to get your hands on a Unova Cap. Throughout the summer they will also have additional caps available, including the Kolas Cap, which will be available between June 14th and June 26th and then later on after summer wraps between September 13th and the 25th.
The final cap that will be available for Pikachu in Pokemon Sun and Moon will be an Alola Cap, which will be available between June 28th and July 17th. They'll repeat the availability of that cap as well between September 27th and October 9th this the fall.
In addition to all the free caps they're giving out, CoroCoro also revealed that there's a special serial code that comes with a Pikashumium Z Z-Crystal for Pikachu in Pokemon Sun and Moon, which unlocks the special Z-Move the 10 million Volt Thunderbolt. For those of you unfamiliar with the game, there are special Z-Moves that can be unleashed with Pokemon by acquiring Z-Crystals in order to power-up the Pokemon and unlock their special, hidden, Alola abilities.
It's pretty cool that they're handing out these free hats, including the original Ash Ketchum hat. It's a nice throwback to the original trainer that helped kick off the popularity of the Pokemon franchise.
The additional hats will also add a bit of variety to Pikachu as well, assuming you wanted to get a hold of them. They don't say if this will also apply to the Western version of Pokemon Sun and Moon, but I'm sure Nintendo will chime in with an official response soon enough.
Your Daily Blend of Entertainment News
Staff Writer at CinemaBlend.