Here's Why Those New For Honor Emotes Are Pissing Players Off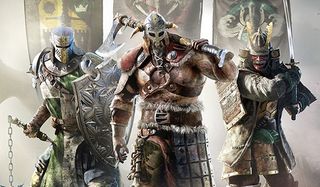 Only on the market about a month, For Honor has seen its fair share of turbulence already. From server issues to player drop-off and AFK farmers needing to be banned from the game, it's been a busy few weeks for Ubisoft's latest action romp. But, now that they've announced a new set of cosmetic DLC options for the game, some fans are calling foul when it comes to how much a given person could be pouring into the game.
Gamers have started crunching the numbers and, according to their findings, For Honor could be one of the most expensive games on the market (in terms of dollars or time spent) if you want to unlock all of the customization and flair items available in-game.
For Honor is a pretty rad class-based battle game that stresses the importance of one-on-one combat and strategy over hacking and slashing. Players take on the roles of Vikings, knights or samurai and play various game modes that see them waging epic war. As you unlock more classes and spend more time with the game, you'll gain access to cosmetic items and emotes. That's where the trouble comes in for some players.
Like many online games these days, For Honor allows players to either spend in-game currency on cosmetic items or just buy them right out for real world money. The in-game currency is called steel, and you can buy 5,000 steel for $4.99. Recently, For Honor launched some new emotes that cost 7,000 or, if you want to pay real money, about $7.
That's on the expensive end for such content compared to similar games, which got folks looking more carefully at the unlock options. According to the original report from PC Gamer, Reddit user bystander007 ran the math in order to see how long it would take to unlock everything in the game. For starters, if you want all of the cosmetic items for each class that's currently on offer, as well as all of the emotes, that will set you back 1,098,000 steel. That translates to 7.32 of the game's $100 steel packs or, more specifically, $732.
It seems that players are upset because of the slow rate at which you unlock steel naturally in the game. Long story short, if you're an average player who puts in about two hours a day, it would take you a good 2.5 years to build up enough steel to unlock everything in the game. That is, of course, not accounting for a shift in steel unlocks during promotions or additional classes and cosmetic items that will undoubtedly roll out for the game.
While we agree that Ubisoft may be leaning on the expensive side when it comes to emotes and cosmetic items within For Honor, we have a bit of trouble understanding what the real complaint is here. The whole point of unlocking these kinds of items is that it takes time and effort. If said time and effort isn't worth it to you and you just want to "look really cool right now," you have the option of spending money on it instead. If you absolutely, positively have to have every cosmetic item imaginable, then it's going to cost you a whole lot of money and/or time. But again, these are cosmetic items that have no bearing on gameplay.
If you think they're charging too much, by all means, keep your wallet in your pocket. Maybe your Viking tank doesn't need a dozen hats in his inventory?
Staff Writer for CinemaBlend.
Your Daily Blend of Entertainment News
Thank you for signing up to CinemaBlend. You will receive a verification email shortly.
There was a problem. Please refresh the page and try again.