The Next Call Of Duty Game Has Been Revealed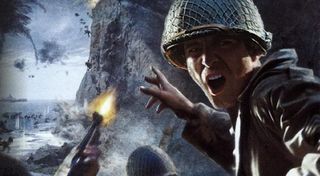 Sledgehammer Games and Activision have announced that the newest Call of Duty game is prepping for a full reveal soon. The upcoming title will likely launch this fall for home consoles and PC, but first they need to make a pit stop at the world wide reveal set to take place next week.
In a press release sent out to media outlets, they revealed that the newest entry in the long-running, highly lauded, and commercially successful Call of Duty series will be called Call of Duty: WW2.
The new game will have its official reveal take place on April 26th, 2017 and the trailer will be available over on the official Call of Duty website.
The reveal will also feature Sledgehammer Games' co-studio heads and co-founders, Michael Condrey and Glen Schofield. They don't mention in the press release exactly what roles the two will be playing in the unveiling of the new shooter, but it sounds like they might offer some insight and details on the game during a livestream set to take place next Wednesday.
Typically, the livestreams clock in at just over an hour or so. So, it's definitely something to think about in regards to what they plan to show and how much of it they plan to show. It's expected that we'll get to see some of the game's single-player, and maybe some rough details on the game's story and characters.
There's definitely going to be a lot of questions about this newest Call of Duty because this is coming off of Call of Duty: Infinite Warfare from Infinity Ward, which launched with fairly abysmal sales; it only able to strike up 50% of the sales of what Call of Duty: Black Ops 3 did a year prior. Activision still managed to take the top spot for 2016 as the best selling game of the year, but they received a lot of negative feedback from gamers for sticking with the futuristic sci-fi theme for four years in a row.
The company announced that they would be putting the boots "back on the ground" for this year's entry, and they definitely followed through by taking Call of Duty back to World War II, which is where the game's roots lay.
Of course, this raises a question as to whether or not this was always Activision's intentions? Call of Duty games are now on a three year development cycle, and it's not like they could just instantly respond to the negative criticisms of Call of Duty: Infinite Warfare by having Sledgehammer whip up a new game within a few month's times. They've been working on this project since they finished Call of Duty: Advanced Warfare back in 2014. I do wonder if there have been tweaks to the formula in response to the negative feedback for Infinite Warfare, though.
Another thing to consider is whether or not they will advance the depiction of World War II in any significant way? DICE decided to tell a very compelling series of short stories set during World War I. Could Sledgehammer do the same or would they focus on the typical four-hour Hollywood-style blockbuster single-player experience? I suppose we'll find out next week.
Staff Writer at CinemaBlend.
Your Daily Blend of Entertainment News
Thank you for signing up to CinemaBlend. You will receive a verification email shortly.
There was a problem. Please refresh the page and try again.