When The Nintendo Switch May Be Available Again At Best Buy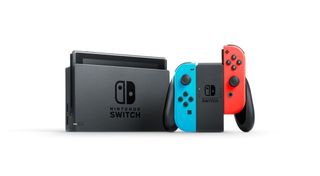 (Image credit: Nintendo)
The Nintendo Switch has been one of the most popular gaming items to release in recent years. So popular in fact that every single major retailer in the United States has been sold out of the Switch since its release on March 3rd. Well, that could soon be changing at Best Buy.
According to various sources, the Nintendo Switch may be back on store shelves at a Best Buy near you starting April 28th.
Where did they get this information from? Where they pulled it off a post on the /r/Nintendo sub-Reddit that someone submitted. The post actually links back to a forum post over on Cheapass Gamer, where there's a topic thread listing all the upcoming deals that will be available at Best Buy based on the flier they put out a week ahead of the sales.
According to the post -- which lists a whole bunch of different games, movies, and video game accessories -- at the bottom there's a note that Best Buy will put out stock for the Nintendo Switch and the NES Classic Edition. The NES Classic Edition will be available for a limited time on April 24th, while the Nintendo Switch will supposedly be made available on April 28th, along with the release of Mario Kart 8: Deluxe.
Yes, that's right... Mario Kart 8: Deluxe finally releases for the Nintendo Switch on April 28th. The game has been touted as the next big AAA outing for the Switch, even though it's already three years old.
GameStop opened up pre-orders for a $500 bundle for the Nintendo Switch and Mario Kart 8. Even though a lot of people noted in the comment sections that $500 was way too much, GameStop apparently sold out of the neon colored bundle units.
Some people noted that Best Buy hasn't had any Nintendo Switch units in stock since the beginning of April, according to Now In Stock, so many assume that Best Buy has been stockpiling their units for the Mario Kart 8 bundle due for release on April 28th.
What we don't know is if this will be relegated to in-store pickups or if customers will be able to actually order the units online. If you aren't able to pick up a unit from Best Buy some commenters are saying that Toys 'R Us will also have bundle deals available on April 28th as well. This rumor seems to be spreading around quite a bit and has a lot of people convinced that they should show up at their local retailer in an attempt to get their hands on a Nintendo Switch.
More importantly, a lot of people are simply hoping that Nintendo produces more units. They're technically only hurting themselves by not releasing more units in territories where a lot of people are hoping to get their hands on the Switch, and judging by the people prepping to line-up outside of Best Buy, there are a lot of potential customers. Nintendo seems to want to move up to 16 million units for the fiscal year, but they're seriously going to need to provide more stock at retailers if they want to hit that figure. Some analysts predict that the Nintendo Switch will move about 7 million SKUs throughout 2017. They managed to move 2.5 million throughout March, so they're already more than a third way there.
Staff Writer at CinemaBlend.
Your Daily Blend of Entertainment News
Thank you for signing up to CinemaBlend. You will receive a verification email shortly.
There was a problem. Please refresh the page and try again.