Street Fighter 5's Newest Stage Has Already Been Pulled. Here's Why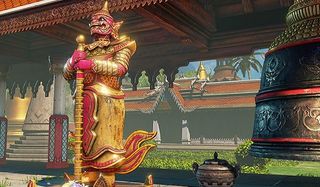 If you were excited to jump onto Street Fighter V and grab the latest arena, Thailand Temple Hideout, you might want to pump the breaks. It turns out that Capcom has pulled the stage temporarily due to a cultural boo-boo.
In short, the stage features a Buddhist temple while its theme song boasted Muslim prayers being chanted in the background. Capcom responded quickly, temporarily removing the stage from the in-game marketplace. They commented on the incident through the official Capcom blog.
If you already downloaded the stage in Street Fighter V, then you still have access to it. Once the fix goes live, however, the song will be replaced by whatever new tune Capcom decides to drop into the background. They cap the whole announcement off by saying they apologize to anyone who may have been offended by the content.
The good news here is that it doesn't seem like anyone was actually offended. The stage went live on April 25 and was pulled rather quickly. The reason for the buzz has been tracked back to reddit, where players were quick to notice the fact that the song and the stage didn't really match up.
It's nice to know that Capcom received the message nice and early and reacted so quickly, especially since it doesn't sound like the Street Fighter community will be missing the stage for all that long. And to their credit, it sounds like they made an honest (though utterly silly) mistake.
Not to generalize here, but it does seem pretty sloppy to build a level focusing on a Buddhist temple and conclude your musical research at, "Buddhists chant, right? So let's get a song with some chanting in there." To be fair, the song originally featured in the SFV level was a religious song, it was just from a completely different religion. That might seem like a small matter to some folks, but we imagine it could be pretty insulting to either group to have a part of their religion just shoehorned into a completely different religion so recklessly. We're glad Capcom acted before any sort of outcry took place, but hopefully, this will be a valuable lesson to all developers moving forward.
Staff Writer for CinemaBlend.
Your Daily Blend of Entertainment News
Thank you for signing up to CinemaBlend. You will receive a verification email shortly.
There was a problem. Please refresh the page and try again.