Why Alan Wake Is About To Be Removed From Steam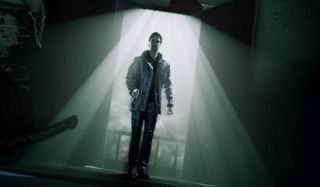 If you've been eyeing Alan Wake for your digital game collection, you might want to go ahead and pick it up in the next couple of days. According to the team at Remedy Entertainment, the game is about to mysteriously disappear off of virtual marketplaces.
Perhaps "mysteriously" is not an appropriate word, as we know exactly why Alan Wake is about to pull a vanishing act. Over on Twitter, the developer has explained that it's all due to the game's soundtrack, of all things.
It's unfortunate, but these kinds of things happen from time to time. If you'll recall, the Alan Wake soundtrack had quite a few licensed songs in the mix, including numbers from Nick Cave and the Bad Seeds, Roy Orbison, Depeche Mode and even David Bowie. Since the game came out about seven years ago, it seems likely that the contract for at least one of the songs in Alan Wake was only for that period of time.
For their part, Remedy is attempting to re-up whatever contract is causing the issue, but they may determine that it isn't worth the price of admission. Until that all gets sorted out, the game has to be removed from both the Xbox marketplace and Steam. As the tweet points out, though, Alan Wake will be going out with a bang on at least one of those platforms.
In what is being called a "Sunset Sale," you can grab Alan Wake for 90 percent off starting May 13 and running through May 15. That's only a short window, with the game disappearing once the sale comes to a close. Alan Wake is currently going for $29.99 on steam, so that means you should be able to get it for a mere $3 over the weekend. Obviously, we highly recommend that you do exactly that.
In case there is any confusion here, you will still be able to play Alan Wake once it goes missing from digital storefronts, you just won't be able to buy it after this coming Monday. That is, of course, one of the key reasons some folks are iffy on the digital future of gaming. If Remedy is unable to work things out with the music licenses, we may never see Alan Wake available for purchase outside of physical copies again. That would be a shame.
If nothing else, maybe this sale will spur on enough purchases to fund whatever music license needs to be settled. Since nothing like that is guaranteed, though, we'd recommend grabbing a copy of the game while you still can. It's something of a gem from the Xbox 360 era and definitely still holds up to this day.
Staff Writer for CinemaBlend.
Your Daily Blend of Entertainment News
Thank you for signing up to CinemaBlend. You will receive a verification email shortly.
There was a problem. Please refresh the page and try again.