Halo 3 Will Not Receive An Anniversary Edition, Please Stop Asking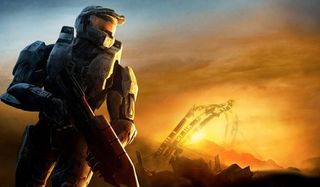 If you've been holding out hope that an anniversary edition of Halo 3 was on the way, you might want to stop holding your breath. According to the team at 343 Industries, it ain't gonna happen.
Over the weekend, rumors continued to circulate that an enhanced version of Halo 3 would surface soon, celebrating the landmark FPS' 10-year anniversary. As is frequently the case these days, the record was set straight over on reddit, where 343 community manager Brian Jarrard chimed in on an ongoing conversation. Posting as sk7ch343, he basically put the matter to rest.
To be fair, fans have every right to expect a remastered version of Halo 3. The first game got its second moment in the sun 10 years after launch, as did Halo 2. So, nobody should be faulted for assuming that Halo 3 was in line for the remastered treatment. However, since Jarrard has stated point blank that it's not happening, we figure the rumors and speculation should at least die down for the time being.
This whole mess started thanks to a previous comment from Jarrard pertaining to E3. It was announced last week that the next game in the Halo series will not be making an appearance at this year's show, which isn't exactly surprising. The previous game was well received, but that was mixed with a pretty overwhelming desire from fans to see long-time protagonist Master Chief return to center stage. The team at 343 have stated that the follow-up to Guardians will indeed focus on the legendary Spartan, so we're not surprised that they're taking their time in order to pull this one together.
However, along with the announcement that Halo 6 will not be at E3, Jarrard mentioned that fans should expect "a little something" to be revealed. Some folks on reddit did the math and realized that Halo 3 launched 10 years ago so, boom, you've got yourself a rumor.
Still, you'll have to forgive us if we're a little skeptical. In this industry, things aren't official until they're official with a capital "O," so it's not uncommon to be told point-blank that something is one way and then, 24 hours later, the story has changed. At Phoenix Comicon a few years back, Ron Perlman told a crowd that he had not heard one word about a potential Fallout 4, even though he would be excited to work on the game if it ever went into development. A full two days later, the Fallout 4 announcement trailer launched complete with a radio broadcast from Perlman himself. All I'm saying is, you can't blame the games community for speculating in this day and age.
For the moment, though, we'll assume Jarrard is being sincere when it comes to Halo 3 but, again, we won't exactly be shocked if both that and Halo 6 turn up at E3.
Staff Writer for CinemaBlend.
Your Daily Blend of Entertainment News
Thank you for signing up to CinemaBlend. You will receive a verification email shortly.
There was a problem. Please refresh the page and try again.