Starlink: Battle For Atlas Is The Next Generation Of Toys-To-Life Games For Nintendo Switch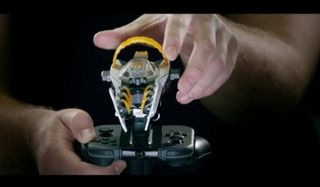 If you've ever wanted to build and fly your very own starship, then you'll want to keep an eye on Starlink: Battle for Atlas. It was revealed during the Ubisoft E3 2017 press conference, and it's a new spin on the toys-to-life genre with controller-mounted ships you can alter on the fly.
In Starlink, players will have the ability to literally craft their own ships and see how well they do against a horde of alien baddies. Coming from Ubisoft Toronto and set to launch in the fall of 2018 on the Xbox One, PlayStation 4 and Nintendo Switch, this latest entry in the toys-to-life genre takes a slightly different route than, say, Skylanders or Lego Dimensions.
For starters, those other games let you swap out which character you have running around on the screen while Starlink has you swapping out entire spaceships. The pilot, hull, wings, armor, and weaponry are all customizable, taking the form of plastic action figures that can actually be mounted to your game controller. The cool thing is that these individual parts can be swapped out while playing the game and take effect instantly in-game. In other words, if you swoop into an area and find yourself under heavy fire, you can quickly bolt on some extra armor to give you protection over speed. If you drop into a planet that's covered in ice, you'll probably want to swap out one of your cannons for something that shoots fiery blasts.
According to the game's background information, players become a part of an interstellar group of pilots who are trying to free the Atlas star system from a group of baddies known at the Forgotten Legends. The star system itself is apparently fully built and seamless, meaning you'll be able to move from planet to planet at will, taking on whatever challenges you discover once you break atmosphere.
According to the game's official site, each one of its planets in the game has its own identity, ecosystem and wildlife. The devs warn that space is a hostile environment and will present many challenges, and that the worlds will evolve depending on your actions. Apparently enemies will adapt and "fight intelligently," which we assume means put on defenses to certain weapon types if you rely on them too heavily.
What really sets Starlink apart from other toys-to-life games is that it is being designed to play without the actual physical product. So for players who want to collect the starships and swap out parts on the fly, you're covered. But if you want to simply play the game and not bother with any physical components, you can purchase and alter your various ship parts within the game, too. That should be extra nice for those who want to play on the Switch in portable mode, as you won't be able to mount the ships directly to the screen.
We've got more than a year to wait on this one, but at least Starlink looks really strong in these early showings.
Your Daily Blend of Entertainment News
Staff Writer for CinemaBlend.