Sony Confirms The Status Of New Title From Sucker Punch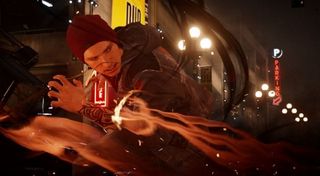 (Image credit: Sucker Punch)
During E3 a lot of people were asking "Where's the new game from Sucker Punch?" The company hasn't been heard from since it released Infamous: First Light. Well, it appears as if the reason for going dark was because it was working on something big.
According to Gamespot, Sony's worldwide studios president Shuhei Yoshida revealed to the outlet that he has been playing Sucker Punch's new game, but opted not to give anything away.
According to Yoshida, the game is very "narrow" and that he's been playing quite a bit of it. He explained that he's played similar games and that even though it is a game he says that "[it isn't] making movies", which makes it sound like Sucker Punch is moving away from the open-world structure of the Infamous games for something possibly akin to what Naughty Dog has been doing lately with games such as Uncharted and The Last of Us.
Gamespot also mentions that the game has been in development for some time now, as PlayStation's game development head for Sony's worldwide studios of America, Scott Rohde, mentioned that he had been playing the game off and on with Shuhei Yoshida since 2015. So it sounds like Sucker Punch have been working on the game since it completed work on Infamous: First Light, the standalone follow-up to Infamous: Second Son.
Sucker Punch's previous games have mostly centered around super-powered beings roaming around open-world environments. Back during the PS3 era, Infamous was a fairly popular new IP that introduced gamers into exploring the city using a variety of tactics and techniques with electrical superpowers at their disposal. Sucker Punch quickly followed the game up with Infamous 2, which took the super-power concept further yet, adding in more powers and more morally ambiguous decisions for players to explore with the main character.
If Sucker Punch is moving away from the superhero genre and focusing more on a linear story adventure, then it's probably safe to say that it's going to be a new intellectual property.
Gamespot also hazards a guess that the game will also be a new IP, which could be a big boost for the PlayStation 4 because it's been sorely lacking when it comes to original IP that really stand out during this generation.
In fact, the only really noteworthy game that most gamers have said is the best that the PS4 has to offer is Bloodborne, which is actually based on a lot of the core design mechanics of Dark Souls. The PS2 and PS3 were known for having tons of really cool original IP, more-so the former over the latter. Even with the limited quantity of new IP for the PS3, there were still a lot of really high-quality games put out on the system, from Heavenly Sword to Motorstorm, and from Heavy Rain to Uncharted, there was a little bit of something in there for everyone.
We'll see what Sucker Punch has in store as more information is revealed about its new project for the PlayStation 4.
Your Daily Blend of Entertainment News
Staff Writer at CinemaBlend.