Major Halo Update Includes Backward Compatibility And Xbox One X Support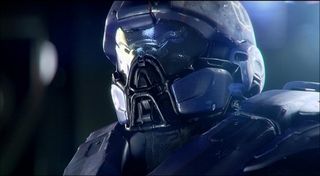 (Image credit: Microsoft)
343 Industries and Microsoft have huge plans for the Xbox One and Xbox One X this fall when it comes to Halo games. In a recent update, we learned that those of you who already own classic Halo titles will soon be able to play them via backward compatibility on the Xbox One and Xbox One X.
Over on the Halo Waypoint website, it was revealed first and foremost that a 4K update for Halo 5: Guardians will be coming for the Xbox One X. An actual release date on the 4K update was not revealed, but 343 says it's "coming soon". This came after gamers saw Master Chief during the 4K reel for the Xbox One X at E3, even though there was no announcement during Microsoft's press conference about Halo 5: Guardians, in particular, being 4K-ready. Well, 343 has confirmed that Halo 5: Guardians will be 4K-ready.
The fifth canonical game in the long-running series won't be the only one made available for Xbox One X gamers. The post goes on to reveal that Halo: Combat Evolved Anniversary Edition, Halo 3, Halo 3: ODST and Halo 4 will all be made backward compatible with the Xbox One. This includes the vanilla versions of the game, not the ones included in the Halo: The Master Chief Collection for the Xbox One.
So for those of you who still have your Xbox 360 discs, you can load them up and play them on the Xbox One and Xbox One X. One of the best parts about this announcement is that Microsoft is making all of the DLC for Halo 4 and downward free!
So this means that even if you didn't own the DLC for the other games, you'll be able to access them without paying a dime, which is the sort of thing that will easily get gamers investing some time and energy back into the older Halo titles.
Now obviously there's a huge elephant in the room that needs to be discussed: Xbox Live.
As many of you know, Microsoft shut down the Xbox Live services for the older Halo titles. The only way to play the older games from the OG Xbox era online is to purchase them via the Halo: The Master Chief Collection bundle.
So what about the other games? How will you be able to play them via multiplayer? Well, according to the post it appears as if 343 will keep LAN play enabled. You'll still be able to hook up your Xbox One systems together and do LAN parties, as if it were 1995.
The post also mentions that multiplayer will also still be available, but there's no mention if there will be cross-compatible multiplayer between Xbox 360 and Xbox One users. It is possible to do cross-compatible LAN play between the Xbox 360 and Xbox One.
I'm sure a lot of Halo fans still have tons of questions about the backward compatibility, and 343 mentions that more details will be made available at RTX 2017 set to take place in Austin, Texas, where hands-on previews of Halo 3 and Halo 3: ODST will be demonstrated running in real-time on the Xbox One.
Staff Writer at CinemaBlend.
Your Daily Blend of Entertainment News
Thank you for signing up to CinemaBlend. You will receive a verification email shortly.
There was a problem. Please refresh the page and try again.