Firefall Is Shutting Down, But Plans To Live On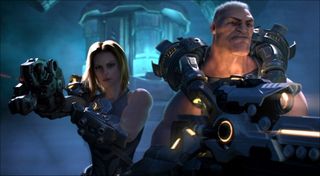 (Image credit: Red 5 Studios)
Red 5 Studios recently announced that the third-person MMO sci-fi shooter RPG, Firefall, has officially shut down. The game's last official day came on July 7th, 2017 this past Friday, but Red 5 still has plans to allow the game to live on.
Over on the official Red 5 website, the studio announced that Firefall's service would be brought to cessation, and that the game would be indefinitely suspended on July 7th, 2017. The news comes in a somewhat anti-climatic fashion. The message was originally posted on July 5th, warning gamers that they only had two more days left of Firefall before the service would be suspended.
However, it's not all bad news. The post states that loyal members of the Firefall community will be rewarded with a new endeavor set within the sci-fi universe. The post explains,
The wording is a little weird given that I think it's supposed to say "Red 5 is currently developing a mobile version of the game". It wouldn't really make sense if the game was developing another game... it would be like, Fireception.
But in all seriousness, it sounds like some of the core tenets of the third-person MMO shooter will make the leap from the client-based setup to the mobile-based arena.
There's no date or start time or any further information about the actual mobile version of Firefall. The games page on the site only takes you to an old description of Firefall, back when former World of Warcraft developer Mark Kern was heading up development on the game back when it was in the concept and design phase five years ago.
Back in 2012, Red 5 had announced that it was working on Firefall, and at the time it seemed to be the sort of game that fans of Hi-Rez Studios' Global Agenda could have picked up and played. There were definitely a lot of similarities. However, as Firefall evolved it actually began to resemble Tabula Rasa in some ways, mixing in vehicular gameplay with PvE scenarios and some light PvP-style modes.
Also, sadly, just like Tabula Rasa there was an eventual downturn in development after the lead, Mark Kern, was axed from the project, and players began complaining about a lack of consistency with the direction and design of the game.
The Steam page is rife with negativity over the way Firefall had been developed (or rather, its lack of development toward the end of its life cycle), and there isn't a lot of love on the Steam community page for the company.
It may be difficult trying to win over gamers with a mobile port of Firefall if people will just see it as another game that may not receive long lasting support. However, maybe the mobile version will feature everything everyone loved about the original, but with none of the extra side-order of drama.
Staff Writer at CinemaBlend.