Why Terry Crews Didn't Become Doomfist In Overwatch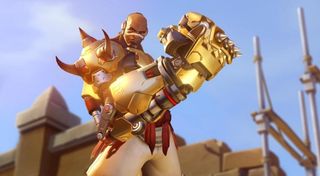 (Image credit: Blizzard Entertainment)
Blizzard Entertainment's Overwatch has been in the news quite a bit since late last year for one thing and one thing above all else: Doomfist. Terry Crews and Doomfist were a huge part of keeping the game in the headlines, both enthusiast and mainstream alike, and Blizzard finally revealed why it didn't use Terry Crews for the super-villain Doomfist.
Gamespot managed to catch up with Overwatch's senior game designer Michael Chu at this year's San Diego Comic-Con, where he explained to the gaming outlet why Blizzard decided to go with actor and director Sahr Ngaujah for Doomfist's voice as opposed to Terry Crews, despite Crews working hard to lobby rigorously for the role of the villain. Chu stated...
So, there you have it. Doomfist was voiced by Sahr because he instantly resonated with Blizzard when it came to embodying what the developers had envisioned for the character.
Terry Crews is known for being bombastic and over-the-top, but it's hard to tell if he would have been the right fit for Doomfist, who isn't anywhere near as enthusiastic or energetic as Crews. It would have been a bit of a letdown for a lot of Overwatch fans if Crews churned out a lackluster or more subdued portrayal of the character when everyone would have gone in expecting something epic.
Some fans were definitely okay with Crews not voicing the character, feeling as if Crews may have overshadowed the character and his lore within the game's world. Others were disappointed because Crews brought so much energy and life to Overwatch that had been missing since the game's release.
However, after seeing the animated story trailer for the super-villain, more people warmed up to the idea of not having Terry Crews voicing the character.
But what did Crews think about being passed over for the role? Well, he was quite okay with it. In fact, he mentioned that he didn't want to take away from the game or what Blizzard was creating for the game and that it was all for the best.
If you're in desperate need to play Terry Crews in a video game, don't sweat it. The veteran actor will be appearing in Crackdown 3 as one of the main characters, specifically Commander Jaxon. Microsoft and Reagent Games even went the extra mile of having Crews 3D scanned into the game and he even performed some of the motion capture for his character as well.
Of course, if you don't have an Xbox One, Xbox One X or a Windows PC, you're going to be a bit left out of the Terry Crews explosion-fest in Crackdown 3. Nevertheless, whether you have a PS4, PC or Xbox One, you can play Overwatch right now and look for Doomfist to become playable starting July 27th.
Staff Writer at CinemaBlend.
Your Daily Blend of Entertainment News
Thank you for signing up to CinemaBlend. You will receive a verification email shortly.
There was a problem. Please refresh the page and try again.