Sonic Mania Is Bringing Back Special Stages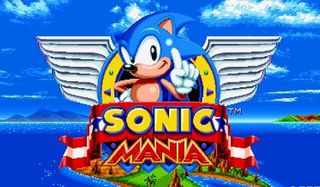 Sega's blue mascot made a brief appearance at San Diego Comic-Con last week, with the developers announcing that the fan favorite Special Stages from earlier 3D Sonic titles, will be returning to the upcoming old-school throwback, Sonic Mania.
Members of the development team recently spoke at a Sonic Mania panel during San Diego Comic-Con. While they didn't offer too much new information on the upcoming title, the details they provided were enough to get fans pretty hyped. In short, they're bringing back Special Stages, which were a collection of hidden levels in previous Sonic games that tasked players with collecting the seven Chaos Emeralds. As Gameinformer points out, collecting those items was usually the only way to get the game's true ending. Because, you know, Sonic games are all about that lore.
What's cool about these Special Stages is that they typically broke from the game's norm, offering players new mechanics and challenges to help break up the usual platforming action. We're not sure if this news means old favorites will be making an appearance in Sonic Mania, or maybe they'll be remixing some previous stages or building brand new ones.
Whatever route they take, it's just another nice way to show fans that, yes, they are truly trying to make a classic Sonic game with Mania. In case you're getting your upcoming hedgehog games confused, Sonic Mania is the game that will be striving to recreate the feel of the original Sonic trilogy, but with some new trappings. They'll be mixing revamped levels with new creations, as well as giving Sonic, Tails, and Knuckles new abilities to aid in their exploration.
On the other side of the spectrum is Sonic Forces, which is kind of trying to bridge the gap between previous generations of the popular Sega series. Some of the levels in Forces look like 3D Sonic levels on steroids while others are just as sharp, but harken back to yesteryear with 2D platforming. We're hopeful the whole thing ties together nicely, as there haven't been many great Sonic games since the Dreamcast days.
After years and years of Sonic games being hit or miss, we're trying not to let our hopes get too high here. Right now, both Sonic Mania and Sonic Forces look pretty fantastic, so it would be something of a major boon for the series if they both turned out to be quality experiences. Consider our fingers crossed.
The only other major Sonic news to come out of Comic-Con is the fact that a vinyl soundtrack will also be made available for Sonic Mania. If that's your thing, then you can expect 16 tracks pulled from the game.
As for the game itself, look for Sonic Mania on PlayStation 4, Xbox One, Nintendo Switch and PC come Aug. 15.
Your Daily Blend of Entertainment News
Staff Writer for CinemaBlend.