Pokemon Go's Next Legendary Is Now In The Wild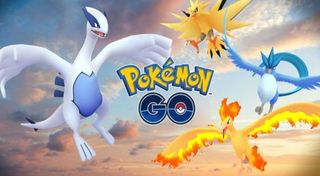 (Image credit: Niantic Labs)
Niantic Labs may have caused a bit of a ruckus with the whole Pokemon Go Fest that went up in proverbial flames due to the servers not being able to accommodate all the players who wanted to participate, but don't worry, it's all made up for with the fact that a new Legendary Pokemon has entered into the wild.
Gamespot is reporting that Team Valor's mascot, Moltres, is now out in the wild for a limited time in Pokemon Go, and gamers can capture a Moltres right now!
There's a limit on where you can acquire this particular Legendary Pokemon, though: it will only appear during Raid Battles. This means that you'll have to team up with some friends (or a few trustworthy strangers) and battle it out against the fire-type in order to secure the Legendary Pokemon for yourself.
Niantic Labs offering up the Moltres won't be for any long period of time, though. The rare Pokemon will only be available up until August 7th. After that it will disappear for a while, just like Lugia and Articuno, two previous Legendary Pokemon that were made available for a limited time in Pokemon Go.
The article further reports that Zapdos will be next on the list, and will only be available for a limited time as well, and you'll only between August 7th and August 14th to get your hands on the super rare, Legendary Pokemon.
Niantic will also be introducing additional Legendaries throughout the rest of the year, but the dates haven't been cemented in stone just yet.
Niantic had a bit of a problem that it ran into legally with the last Pokemon Go Fest in Chicago back in July. The company promised a rocking good time, with the ability to capture a Legendary Pokemon, but the servers were overloaded during the event, and some people ended up suing Niantic for the travel costs they lost and for not getting delivered what was promised. Niantic did, however, offer all of those who participated in the event a free Legendary and $100 worth of free cash shop cash. Not everyone was pleased with that, though, and so the company is still stuck in some form of litigation.
The legal hold-up also caused a lot of people to miss out on some summer-time fun due to the fact that European fests for the game were postponed in the wake of the legal trouble Niantic is facing off against.
The Japanese fest is still on for August, and there will be additional events set to take place in the fall as well.
Pokemon Go never really had the easiest time of it on the market due to one thing or another, but Niantic, the Pokemon Company, and Nintendo have been making money hand over fist with the title.
Surely some goodwill will likely be restored now that gamers can get their hands on a Moltres by joining a Raid Battle. As mentioned, you'll want to work fast because the Legendary won't be around for long, and will go the way of the dodo come August 7th.
Staff Writer at CinemaBlend.