For Honor Season 3 Introduces Two New Heroes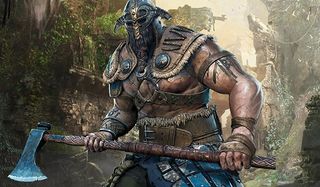 The team at Ubisoft is getting ready to roll out Season Three content for the three-faction brawler, For Honor, and it'll include a pair of new classes for players to enjoy. The Vikings will now have a Highlander on their side, with the Knights getting a Gladiator.
Considering the fact that Connor MacLeod uses a katana, we were really hopeful that the "Highlander" in For Honor would be a Viking/Samurai hybrid who was also immortal, and maybe also earned buffs every time he claimed the head of his enemies. Apparently, Ubisoft is now in the business of crushing dreams, though, because it turns out the Highlander in For Honor is just another beefy Viking.
All joking aside, the Highlander is a new Hybrid class for his clan, and he'll be available alongside the Knights' Gladiator on Aug. 22. Once they're available, you can unlock them for 15,000 Steel, the in-game currency. As for Season Three proper, also known as "Grudge & Glory," that'll go live across PC, PlayStation 4 and Xbox One on Aug. 15. Ubisoft stated in a press release that this will be the biggest update for the game to date and, along with those new classes, it'll include new maps, gear, ranked play and a bunch of the usual gameplay updates. The Grudge & Glory update is free for all players at launch.
The two new maps are called Sentinel and Viking Village, both of which will have their own deadly environmental element to help keep players on their toes. Sadly, no word was offered on what those elements will be, but we're all for maps with a few tricks up their sleeve.
As an aside, this update will also introduce a new Legendary gear rarity to For Honor, as well as the ability for Heroes to level up to the new cap of 40.
Direct from Ubisoft, here's a rundown of each of those new classes, which will probably be most players' top priority once they're unleashed on the battlefield.
Highlander:
Highlanders are patient heroes capable of switching between two different fighting forms. Their defensive form allows for counter-attacking and trading blows, while their offensive form empowers them to unleash their deadliest attacks at the expense of being able to block. Wielding the heaviest and longest sword in the game, the Highlander's massive claymore gives them a deadly combination of strength and range.
Gladiator:
An assassin class hero. Wielding a trident and shield, Gladiators have made a living off of killing for sport, and now bring their ruthlessness and skill to war. Equipped with little armor, they can punch their opponents to create separation to set up attacks and stuns. Their larger stamina meter and reduced cool down times make them extremely agile and dangerous opponents.
Staff Writer for CinemaBlend.
Your Daily Blend of Entertainment News
Thank you for signing up to CinemaBlend. You will receive a verification email shortly.
There was a problem. Please refresh the page and try again.