For Honor Is Adding Two New Heroes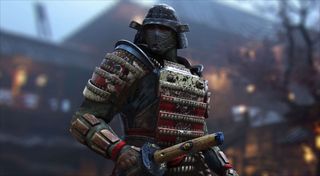 (Image credit: Ubisoft)
Ubisoft promised that they would have a slew of new heroes added to For Honor throughout its run on the marketplace. Well, they've just unveiled the new characters that will be joining the ranks of the game soon.
Gamespot is reporting that the second season of content for For Honor will begin on May 16th. This will kick off with two new playable heroes, including a Shinobi for the Samurai and a Centurion for the Knights. The Shinobi is exactly what it sounds like: a silent assassin type who moves around with a "dancer's grace" and kills using the Kusarigama. Fans of Sho Kosugi's classic ninja flicks will most certainly recognize the weapon, which was used in some of his popular cult classic films from the 1980s, such as Revenge of the Ninja or Pray for Death.
The second For Honor character joining the ranks, the Centurion, is one for the Knights. The Centurion uses a gladius and is designed to penetrate enemy defenses and engage in tight close-quarters combat.
A cinematic was actually released for both of the characters as part of the second season "Shadow and Might" content for For Honor. You can get a very brief look at the two new characters who are depicted as statues. It was posted up as a slight teaser to give gamers an idea of what to expect from the upcoming content drop starting in the middle of May, courtesy of the Ubisoft YouTube channel.
As you can see, the Centurion uses a short sword, and is dressed up to look like a Roman Centurion. It doesn't appear as if he uses a shield, so it will be interesting to note how well he can be used defensively.
While the two heroes will be in the premium DLC that's free for Season Pass holders, everyone else will be able to able to purchase them later in the month, on May 23rd.
What you won't have to purchase are the new maps, which will be free for everyone. The maps will arrive along with additional content for For Honor, updating the game and giving gamers some extra content to sink their teeth into.
Ubisoft will also be adding new content rarity levels for equipment. So now you can unlock and loot "Epic" gear for your character (or characters). In order to accommodate the new gear system, Ubisoft will be overhauling For Honor's equipment stats. Hopefully it doesn't break the game's current balance, because the last thing they probably want is to drive away their user base.
The Faction War event between the three factions will also reset starting May 16th. So if you felt as if the whole multiplayer progression thing was a little too overwhelming and you want to get in on a more even footing, the reset on May 16th will reset the event status (not the characters) so you can hop in fresh without feeling like you've joined a faction while at a disadvantage in For Honor's overall Faction War event.
Staff Writer at CinemaBlend.
Your Daily Blend of Entertainment News
Thank you for signing up to CinemaBlend. You will receive a verification email shortly.
There was a problem. Please refresh the page and try again.