How To Catch Mewtwo In Pokemon Go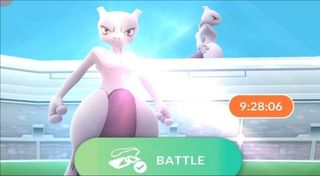 (Image credit: Niantic Labs)
Legendary Pokemon have become a thing in Pokemon Go, and a lot of gamers have been desperate to get their hands one of these ultra rare pocket monsters. Well, one of those elite, rare Pokemon has surfaced as part of an international event, and gamers can now catch a Mewtwo for their very own collection in the popular mobile RPG.
Polygon is reporting that Mewtwo is currently available in Pokemon Go, but it's not an easy catch and you have to meet some very specific conditions in order to get your hands on one.
For instance, first and foremost you will need to complete a Raid Battle. This will require you to go out and team with other players and successfully defeat a Raid Boss in Pokemon Go. It's not the easiest of tasks, but players with some decent training should be able to handle it without any problems.
If you have already completed a Raid Battle, the next part is kind of tricky: you will need to be invited to partake in a Pokemon Go Stadium event.
According to Polygon, Niantic revealed that the Stadium event is invite-only, and will go out to those who took part in a Raid Battle at the Gym where the Mewtwo fight will take place.
In this particular case, the event was held at the Yokohama Stadium in Japan. Players had to travel to the event, where a limited number of Pokemon trainers showed up to fight Mewtwo. Other events to capture a Mewtwo will be held at various Gyms around the world, so don't worry about missing out on the one that took place in Yokohama. One of the things that everyone pointed out is that the event mirrored the big showcase that was featured at the end of the first official trailer for Pokemon Go a couple of years ago.
For those of you who don't remember, the trailer for the game rounded out with everyone at Time Square in New York City, all of them fighting against Mewtwo in hopes of capturing the Legendary Pokemon. Well, Niantic Labs made that event come true at the Yokohama Stadium.
What's more is that everyone who showed up was guaranteed a 100% capture rate if they worked together and successfully defeated Mewtwo.
For those of you who missed out on the event and were unable to attend live and in person in Japan on August 14th. YouTuber Trainer Tips, a popular YouTuber covering Pokemon Go, did a 14-minute video about the event and actually walked gamers through the process of taking down a Mewtwo.
Trainer Tips' Nick Oyzon mentions that Gyarados is a good foil for Mewtwo. He also mentions that Tyranitar could be decent as well but Mewtwo's Focus Blast is extremely powerful, and not many Pokemon can withstand the blast head on.
According to the video, the first ever Mewtwo was captured by a little kid with a backpack. After defeating Mewtwo you'll get 10,000xp, six Mewtwo candies, and the actual Mewtwo. The event went a heck of a lot better than Niantic's Chicago event that's for sure.
You'll have to keep your eyes peeled for more Pokemon Go events if you want to get your hands on the Mewtwo, so keep your eyes peeled on the advanced notifications for events popping up at a Gym near you.
Staff Writer at CinemaBlend.
Your Daily Blend of Entertainment News
Thank you for signing up to CinemaBlend. You will receive a verification email shortly.
There was a problem. Please refresh the page and try again.